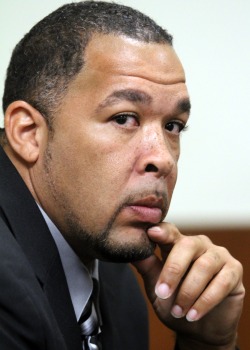 Charles Edward Floyd, 40, could not hold back his tears today as he was sentenced to 30 years in Florida State Prison for raping a prisoner he was transporting while working as a Broward Sheriff's Corrections Deputy on June 13, 2007. His wife was gripped with emotion as she watched her husband being taken away to serve his 30 year prison sentence. Baby, I'm sorry, I gotta go. Don't cry for me," he sobbed. "Mom, I love you." This was too much for his wife as she began throwing up and crying intensely.
Floyd was charged with one count of kidnapping and two counts of sexual battery by a person in a position of control or authority. These charges stem from an incident in which Floyd was working for the Broward Sheriff's Office. It was during this time which Floyd was transporting three female inmates. After dropping off two of the three inmates the Broward Sheriff Deputy drove to a remote location where he ordered the female inmate to perform oral sex on him. It was at this time that Floyd had sexual intercourse with the inmate. According to Broward County State Attorney Prosecutors, Floyd's DNA was found in the womans cervix.
His attorney, Bob Nichols, argued that the "victim did not appear traumatized after the event." He said the judge should "weigh a lifetime of service to the community versus one day."
All sexual batteries are violent," Judge Lazarus responded. Even when "a good person commits an evil deed, nonetheless, he commits an evil deed."

It is interesting to note that before trial the Broward County State Attorney's Office offered Floyd a sentence of 5 years in Florida State Prison followed by 20 years of probation. This offer was rejected by Floyd who instead chose to go to trial. Each Sexual Battery charge carries a maximum of 30 years prison. In this case, Floyd was facing a maximum of 60 years Florida State prison on the sexual battery charges alone. It is a Defendant's constitutional right to have a trial. However, It is important for a criminal defendant to wiegh heavily the pros and cons of whether to proceed to trial.
If you have been arrested or charged with a crime and wish to speak to South Florida criminal defense attorney Richard Ansara please call (954) 761-4011. Richard Ansara is an experienced criminal defense attorney located in Fort Lauderdale Florida. The Ansara Law Firm serves Broward, Dade, and Palm Beach counties. The Ansara Law Firm is available 24/7.