The 30-year-old suspect was likely going to be facing drug trafficking charges. He didn't want to confront that possibility. Instead, he fled from police in an attempt to escape. But he lost control of the car. The vehicle overturned and careened into a nearby canal and started to sink. Defendant swam out through a window, but police caught him within minutes.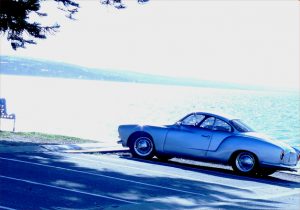 What the suspect didn't inform police of until it was too late was that there were two other people still trapped in that submerged car. It wasn't until officers asked that he offered up the information.
Now the Sunrise man is facing two second-degree murder charges in those deaths. He is being held without bond, and faces up to life in prison if convicted.
Authorities say defendant was behind the wheel, while the two who died included a 24-year-old woman and a 24-year-old man, both from Fort Lauderdale. The two passengers who perished had moved in together several months prior, but authorities offered up no further information. The man had moved to South Florida from Denver, CO.
The ordeal started when authorities first received an anonymous tip that defendant was selling crack cocaine in and around the Summerfield Apartments. Undercover investigators worked with a confidential informant to set up a sting operation behind the apartment complex. The Sun-Sentinel reported that as the deal was underway, authorities moved in to make an arrest for drug trafficking.
But the defendant wasn't sticking around for that. Instead, he sped away hoping to get away from investigators. However, he didn't make it far. He only made it to a canal that was adjacent, about 15 feet away. The vehicle flipped into the canal. Defendant got out through a window. The other two passengers, whom authorities did not immediately realize were in the car, did not get out.
It wasn't until defendant was caught, placed under arrest and specifically questioned by authorities as to the other two people in the vehicle did he concede there were others in the car. By that point, the vehicle was fully submerged. Several detectives dove into the water immediately, but were unable to get the two out of the vehicle. The vehicle was pulled out of the water the following day.
Florida drug trafficking charges are outlined in F.S. 993.135, which breaks down the charges by the amount of the drug involved. For example, a person caught trafficking between 28 to 199 grams of cocaine will face up to three years in prison and a $50,000 fine. A person convicted of trafficking between 200 to 399 grams of cocaine will face up to 7 years in prison and $100,000 fine. A person convicted of trafficking between 400 grams to 149 kilograms will face up to 15 years in prison and a $250,000 fine. The amount of the drug in question here isn't clear, but he was allegedly selling $100 worth.
These second-degree murder charges, meanwhile, could result in a sentence of life in prison. That's in addition to the single charge of selling cocaine, driving without a license causing serious injury or death and aggravated fleeing with serious injury or death. The Miami-Herald reports he also had a warrant out for his arrest for failure to show up for tickets for driving on a suspended license and failing to register his car. There were tips that he was purchasing stolen firearms and selling drugs again. Defendant in this case was on probation after serving nearly seven years for drug trafficking and aggravated battery with a deadly weapon.
The vehicle reportedly belonged to the female passenger, who was mother of a 3-year-old boy.
Cases like these require the assistance of a Fort Lauderdale criminal defense lawyer with extensive experience.
Call Fort Lauderdale Criminal Defense Attorney Richard Ansara at (954) 761-4011. Serving Broward, Miami-Dade and Palm Beach counties.
Additional Resources:
He didn't want to go back to jail. That killed a mom and her friend, cops say, Jan. 15, 2017, By David J. Neal, The Miami-Herald
More Blog Entries:
The War on Drugs and Your Driver's License, Jan. 18, 2017, Fort Lauderdale Defense Lawyer Blog