A man arrested for possession of ecstasy in Fort Lauderdale in 2013 has won $30,000 from the city after the nine pills with yellow hearts stamps reportedly turned out to be aspirin.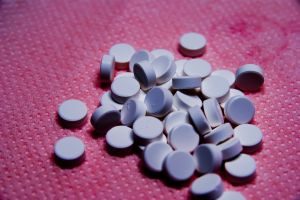 The 37-year-old sued the city in civil court alleging false arrest, battery and unlawful search following a 2013. According to The Sun Sentinel, plaintiff in the case, Antonio Grant was a passenger in a vehicle that had been pulled over for expired tags.
He was allegedly handcuffed at gunpoint, ordered face-down on the asphalt and forcibly had his shorts searched. The officer also reportedly searched his rectum digitally to look for drugs. Officers did find nine pills, but testing proved the substance was actually generic aspirin. 
The two officers involved were reportedly in an unmarked police cruiser and treated the situation as if it was a high-risk traffic stop because the driver reportedly failed to pull over right away.
The driver was ultimately charged with having an expired tag and driving with a with a suspended license.
Officers alleged they could see plaintiff making "furtive movements." He was allegedly spotted reaching into the glove box, where there was a box of blue pills. According to plaintiff's lawsuit, those pills were later discovered to be medication for high blood pressure.
More pills were found in plaintiff's shorts.
At no point, plaintiff alleged, did police conduct any chemical testing to ascertain whether the pills were in fact ecstasy or any other illicit chemical substance. Instead, officers noted in their arrest report that the substances were identified via the "knowledge, training and experience as narcotics officers."
But this type of scenario illustrates that so-called "drug recognition experts" trained by law enforcement is not full-proof. Further, just because an officer insists you have been found in possession of a certain drug does not mean you should admit to it or assume there is no way to fight the charges. The reality is, chemical testing often produces results that conflict with officer testimony or, at minimum, show the evidence is weak.
Drug recognition officers are trained to identify certain drugs and also when someone is under the influence of those substances. Not all officers in a department are trained drug recognition experts because the training is time-consuming and costly. Further, while many police agencies will praise these officers for their abilities, this case clearly shows the process is flawed. So much of the drug recognition expert's evaluation is subjective or at least open to interpretation.
Additionally, there is a great deal of evidence to show police in these circumstances display something known as "cold bias." This is when officers ignore relevant information that could be important to proving the innocence of a suspect.
This is exacerbated by the fact that, we mentioned in our previous Fort Lauderdale Drug Defense Lawyer Blog, that $2 drug roadside drug tests that have proven faulty are being used to strong-arm defendants into pleading guilty to criminal charges.
Our defense lawyers in South Florida will ensure in each case that the alleged drugs are tested in a laboratory by qualified professionals before deciding how best to proceed.
Call Fort Lauderdale Criminal Defense Attorney Richard Ansara at (954) 761-4011. Serving Broward, Miami-Dade and Palm Beach counties.
Additional Resources:
Fort Lauderdale police mistaking aspirin for Ecstasy leads to $30,000 settlement, Feb 18, 2016, By Larry Barszewski, Sun-Sentinel
More Blog Entries:
NYT: A $2 Roadside Drug Test is Sending Innocent People to Jail, July 16, 2016, Fort Lauderdale Drug Defense Attorney Blog