Tramaine Beard was preparing to stand trial in Broward County for armed robbery when the case took a turn that even Beard's own criminal defense attorney wasn't expecting: His twin brother, an ex-felon, was prepared to confess.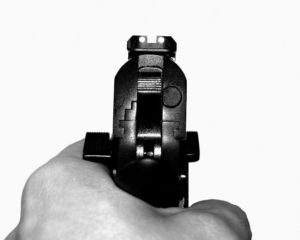 But as the jury selection was getting underway, defendant excused himself for a restroom break – and disappeared. The judge issued a bench warrant for his arrest while his attorney called his cell phone and tried to convince him to come back to court.
That's unlikely to be the end of this strange story, with numerous twists and turns as reported by The Sun-Sentinel. 
According to the news outlet, the case started in December 2010 when a man in Broward contacted authorities to report he'd been robbed at gunpoint by a man he arranged online to meet in order to buy $4,000 worth of electronics. The victim showed up with the cash. However, instead of being given the electronics, he found himself facing down the barrel of a gun.
The alleged robber stole $2,000 before the reported victim shouted to a police officer who had just entered the drug store parking lot on Miramar Parkway.
Both the gunman and the passenger got away. However, the 21-year-old victim turned over to police a phone number from text messages he'd exchanged with the reported "seller." That phone number led robbery detectives to Tramaine Beard. He had used that same telephone number when he was in a car accident months earlier.
After picking Beard out of a lineup, he confessed. Now, it appears he may have offered that confession as a means to protect his twin brother. Beard was found incompetent to stand trial two years after the alleged crime. Competency was restored two years later.
Then last month, a week before trial was slated to begin, Tramaine Beard showed up at his lawyer's office with his brother, Jermaine Beard. The two explained that it was actually Jermaine who had committed the robbery. The other man who was reportedly in the vehicle at the time of the robbery was never identified by authorities, but according to the two brothers is now dead.
The news came as a shock to Tramaine's defense lawyer, who had no idea his client even had an identical twin brother. He contacted another criminal defense lawyer to represent Jermaine, who reportedly signed a sworn affidavit confessing to the crime.
And here's another twist: The Florida statute of limitations on robbery, as codified in F.S. 812.13, is four years. As our robbery defense attorneys can explain, that means prosecutors had until December 2014 – or January 2015, at the latest – to file charges against Jermaine. That means prosecution in this case is unlikely – which is probably a huge relief to both brothers, as armed robbery is a second-degree felony, carrying up to a 15-year prison term.
Jermaine likely would have received a harsh penalty, as he is already a convicted felon.
Although our criminal defense attorneys in Broward know it's not uncommon for siblings or other family members to come out in defense of one another, it is a bit strange that in this case, it took more than four years to do so.
Call Fort Lauderdale Criminal Defense Attorney Richard Ansara at (954) 761-4011. Serving Broward, Miami-Dade and Palm Beach counties.
Additional Resources:
Defendant's twin admits committing 2010 Miramar robbery, April 11, 2016, By Rafael Olmeda, Sun-Sentinel
More Blog Entries:
Report: Broward Marijuana Citations Not Used, May 5, 2016, Fort Lauderdale Criminal Defense Lawyer Blog