Often when a law enforcement officer is working long hours, it's a sign of diligence. However, for the colleagues of Broward County Sheriff's Office Sgt. Kreg Costa, suspicions were heightened because the road duty supervisor was staying in his office during and after his shift with the lights off and uniform and gun belt removed. Staffers who witnessed his behavior called it "bizarre."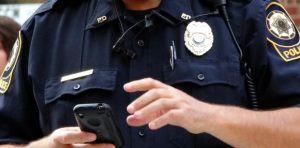 Detectives with the agency's public corruption unit launched an investigation that included asking for computer use reports from the sergeant's work laptop from January to March. That's when they found images of hardcore pornography, bondage and incest-related sites. Further he was reportedly engaging in sexually explicit messages with a 16-year-old girl on both video chats and Twitter. Costa allegedly instructed the California teen to record herself engaged in sexual activity.
Costa was arrested when he arrived at work for a scheduled training. He has been suspended without pay and faces a total of 29 serious criminal charges, including soliciting a child for unlawful sexual conduct using a computer, use of a child in sexual performance, possession of child pornography and lewd lascivious battery.
According to the Broward Sheriff's Office warrant, the girl was 15-years-old when she first began communicating with Costa, who went by the Twitter handle @CallMeSir34. She reportedly did tell him her age when they first began exchanging messages.
They discovered this exchange when, after finding the pornography on his work computer, they launched covert monitoring of his online exchanges at work.
Following his arrest, the 43-year-old was being held in the Broward County Jail without bond.
Costa's criminal defense lawyer, reached by reporters, carefully stated he is innocent until proven guilty and that based on the law firm's cursory investigation into the allegations, he believes his client will be fully exonerated.
The sergeant has worked with the agency since 1999. He was also, according to the affidavit, a former president of the cheerleading and football program, Sawgrass Youth Sports. However, the organization released a statement saying Costa has had no contact or affiliation with the organization since he resigned last fall.
Still, BSO investigators say they fear there are more victims. The current Sawgrass president said there is no evidence to indicate any crimes have been perpetuated against members, parents have been notified of the allegations and given the contact information of detectives working Costa's case to report any potential issues.
Costa is facing a lengthy prison term if convicted on all these charges, but it will depend on what prosecutors can prove. Our Fort Lauderdale criminal defense lawyers know the monitored and recorded exchanges with the alleged victim and statements by the victim will prove challenging to overcome.
Still, there may be an opportunity to plead down the charges, particularly with some of the more serious offenses like lewd lascivious battery, as defined in F.S. 800.04. The statute defines lewd lascivious battery as engaging in sexual activity of a person between the ages of 12 and 15 or encouraging, forcing or enticing a person under 16 to engage in any act involving sexual activity. It's a first-degree felony when the suspect is 18 or older, and it's punishable by up to 30 years in prison.
These allegations are gravely serious. Anyone facing these kinds of charges must contact a reputable law firm with extensive experience defending these types of cases.
Call Fort Lauderdale Criminal Defense Attorney Richard Ansara at (954) 761-4011. Serving Broward, Miami-Dade and Palm Beach counties.
Additional Resources:
Broward Sheriff's Sergeant Arrested on 29 Charges of Child Pornography and Illicit Sexual Conduct, June 9, 2016, NBC Miami
More Blog Entries:
Florida Domestic Violence Arrest of Former NFL Linebacker's Wife, June 10, 2016, Fort Lauderdale Defense Attorney Blog