Had Robert Cesaire served his prison time per the terms of his plea bargain, he would have been released seven years ago. He'd pleaded guilty in Broward Circuit Court to DUI manslaughter in exchange for a 10-year sentence of a possible 17 years, after which time he was to be deported to Haiti.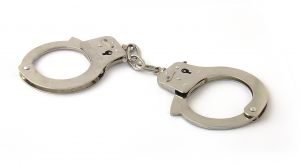 But authorities say he fled to Haiti just days before his sentencing in 1999. That was 17 years ago. Now, authorities say he's been arrested at the Miami International Airport earlier this month. Officials could not say where he was flying from at the time he was arrested, but he is now being held at the Broward Main Jail without bond.
Prosecutors say now that he is in custody, a new sentencing hearing date will be set, at which time they will request the maximum 17-year penalty, given the fact that he fled. 
The Sun Sentinel reports officials had spent a considerable amount of time in the island nation trying to track down Cesaire, but were unsuccessful and the case went cold. They did extend an officer of assistance to Haitian officials if he attempted to fly out of the country.
Defendant's 34-year-old son, who now lives in Savannah, GA, said he had not known his father's whereabouts for 18 years. He had no idea until a reporter told him that his father had been re-arrested and was in custody in the U.S.
The incident of which Cesaire was convicted occurred in Davie, where the victim, 59-year-old Charles "Sonny" Ferguson, lived with his fiancee. Now 51, his former fiancee lives in Orlando and said she never believed Cesaire would be caught.
Cesaire had been sentenced by a judge who is now retired and who gave him 10 days in which to "get his affairs in order" before turning himself in to authorities. Ferguson's fiancee told the Sentinel she believed this was a "10-day head start" and that Cesaire had nothing to lose by taking off.
However, as our Fort Lauderdale criminal defense attorneys know, there is actually very much to lose. This case made headlines for the very fact that it is so unusual for someone to be on the lam so long. Most suspects are caught soon after skipping bail. Although the Florida Center for Investigative Reporting found that the number of people who don't show up for court has spiked in recent years (there are more than 5,000 in Miami-Dade alone), but it's tough to say exactly how many have fled overseas. Broward County is one of the few with a track record of successful extraditions.
USA Today reported in 2014 there are more than 180,000 fugitives in the U.S., many of whom evade prosecution simply by crossing state lines. But to join their ranks is extremely risky.
When you flee from the court system, be aware that:
The statute of limitations will not apply. That means you can't just be gone long enough for it to expire. If the statute of limitations on your alleged crime is five years, you could be caught 10 years later and still charged.
There will be a warrant for your arrest for contempt of court. If you flee to another state or country, there will be a fugitive from justice warrant issued, giving other authorities jurisdiction to make an arrest.
Your mug shot will become widely circulated. 
Bounty hunters may be given authority to track you down.
You will likely receive a harsher sentence. Just looking at the Cesaire case, if the judge imposes the sentence the prosecutors request – and that is probable – he will serve 70 percent more time in prison than he would have otherwise.
Facing down a lengthy prison sentence can be terrifying. The best thing you can do is hire an experienced criminal defense lawyer to help you fight the charges and obtain the most advantageous outcome possible.
Call Fort Lauderdale Criminal Defense Attorney Richard Ansara at (954) 761-4011. Serving Broward, Miami-Dade and Palm Beach counties.
Additional Resources:
Drunken driver recaptured 17 years after failing to appear for manslaughter sentencing, May 20, 2016, Tonya Alanez, The Sun Sentinel
More Blog Entries:
Arrest in Florida Hit-and-Run That Killed MMA Fighter, May 23, 2016, Fort Lauderdale DUI Defense Attorney Blog