A 36-year-old with a long history of driver's license suspensions and DUI convictions is facing yet another charge after Broward County Sheriff's Office officials say he wrecked his motorcycle into a car while drunk in Fort Lauderdale.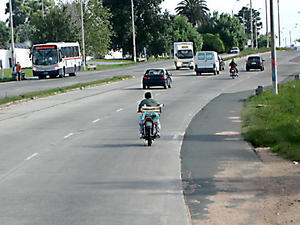 Based on the statement by the judge at his first appearance, it doesn't seem as if the court will be inclined to grant him reprieve. The judge was quoted as saying the defendant is an "extreme danger" to the community with multiple driver's license revocations and suspensions, no insurance and a record of fleeing and eluding police and driving impaired.
DUI defense lawyers in Fort Lauderdale know that for many, ignition interlock has been the go-to deterrent for repeat offenses. However, that only works if the driver is legally allowed to drive a vehicle. Now, lawmakers have proposed a new solution that essentially amounts to forced sobriety.

HB 7005, which was recently approved by a House committee, would mandate that certain DUI offenders submit to twice-daily breathalyzers, random urinalysis or wear continuous monitoring devices, such as an ankle bracelet or drug patch.
The "24-7 sobriety program," a pilot version of which is already underway in Jacksonville, is supported by the state sheriff's association as well as a number of roadway safety advocacy groups.
In the Jacksonville program, a person who fails a breath test the first time automatically goes to jail for 12 hours. After a second slip, a person goes to jail for 24 hours. The same consequences are meted to those who are wearing the monitoring devices. A third or subsequent time, and the person is required to appear before a judge and face incarceration.
The northern Florida program isn't just applicable to those who have committed driving offenses. In some cases, it is considered a condition for bond, probation or other pretrial release. Many times, those receiving continuous alcohol or drug monitoring must also submit to other programs, such as counseling or addiction treatment.
Supporters say there are better compliance rates than what is seen with the ignition interlock program, and it also works to drive down other crimes often fueled by substance abuse, such as domestic violence.
It's true that these kinds of programs may be considered a lifeline for those with serious substance abuse problems. If it helps them stay sober, all the better. It may even be used as a means to keep an offender from serving extensive jail time, particularly when the underlying offense wasn't violent.
However, defense attorneys wish to point out these programs are not going to be for everyone. Consequences for program violations are exceedingly harsh, and there is unfortunately the risk that those who don't need such intensive treatment are going to be corralled in with those who do.
Even if the bill doesn't pass, it's a signal that lawmakers are continuing to explore exceedingly tough penalties for DUI offenders in Florida. Judges appear eager to follow this track as well. It's important that anyone accused of DUI – whether it's your first or fifth offense – contact an experienced defense lawyer.
Call Fort Lauderdale Criminal Defense Attorney Richard Ansara at (954) 761-4011. Serving Broward, Miami-Dade and Palm Beach counties.
Additional Resources:
Man facing DUI charges again in Fort Lauderdale motorcycle crash, April 24, 2014, By Wayne K. Roustan, Sun Sentinel
More Blog Entries:
Court: DUI Blood Test Warrant Must be Substantive, April 22, 2014, Fort Lauderdale DUI Defense Lawyer Blog