In a divided and controversial ruling, the Florida Supreme Court upheld a longstanding ban on people openly carrying firearms in public.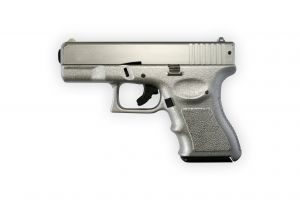 The court disagreed with passionate arguments by supporters of the Second Amendment, instead ruling 4-2 that the state law doesn't impede the exercise of the core right to bear arms. Rather, the law only regulates one manner of how a person can bear arms. The court's decision is an affirmation of the findings by the 4th District Court of Appeal, which in 2015 decided against a man arrested for open carry of a gun in a holster in St. Lucie County.
Defendant in the case, Norman v. Florida, specifically challenged the constitutionality of F.S. 790.053, the state's open carry law, which has been in effect since 1987. The statute holds that except as otherwise provided, it's against the law for anyone to openly carry on or about his or her person any gun or electric weapon or other device. In order to be lawfully carrying a gun, one has to be licensed to carry a concealed firearm and the firearm has to be adequately concealed. 
The law doesn't prohibit a person from briefly and openly showing the firearm to the ordinary site of another person, unless the display is intentional as a form of expressing anger or a threat, and not simply in self defense.
A person is allowed to openly carry chemical spray or a non-lethal stun gun or non-lethal electric weapon (like a Taser).
A violation of this statute is considered a second-degree misdemeanor, which carries a maximum sentence of up to 60 days in jail, plus a maximum fine of $500.
The majority opined that restricting the open restriction of guns to and from lawful recreational activities is reasonable and fits the government public safety interest of reducing gun-related violence. However, dissenting justices asserted this argument was "feeble," and noted that while open carry of firearms may make some people uncomfortable, the reality is people are uncomfortable by the fact that guns are legal at all. Law shouldn't be based, however, on "contemporary sensibilities."
According to court records in Norman, the incident in question occurred back in 2012. Plaintiff received a concealed carry license and one day in February, left his home with a handgun, along with his new concealed carry license. A few minutes after he left home, a bystander noted plaintiff was walking alongside of U.S. Highway 1 with a handgun on his hip, not concealed by any article of clothing. Police were called and a responding officer noted defendant carrying the firearm in plane view, outside a tight-fitting tank top. A dashboard camera of the encounter backed the officer's assertion that the firearm was exposed to the public.
Defendant was charged with a violation of F.S. 790.053. Defendant sought to have the charge dismissed on constitutionality grounds. The county court reserved the ruling until after the jury trial.
Jurors found defendant guilty on the single count. County court denied criminal defense lawyer's motion to dismiss, but certified three questions to the 4th DCA regarding the constitutionality of the law, and also whether the "brief and open display" exception was too vague and if the state had to prove a defendant wasn't conducting himself or herself in an allowable manner.
The 4th DCA ruled the statute doesn't infringe on constitutional rights of self-defense. It declined to weigh the brief and open display exception because that didn't apply to the facts here, and defendant's other challenges to the law were overly broad.
The Florida Supreme Court affirmed.
Call Fort Lauderdale Criminal Defense Attorney Richard Ansara at (954) 761-4011. Serving Broward, Miami-Dade and Palm Beach counties.
Additional Resources:
Supreme Court upholds ban on open-carry of guns, March 2, 2017, By Jim Saunders, News Service of Florida
More Blog Entries:
South Florida Teen Charged as Adult in Fatal Crash Faces Re-Trial, Feb. 28, 2017, Fort Lauderdale Criminal Defense Attorney Blog