A Florida appellate court has ruled that a woman who received two decades behind bars for firing a warning shot at her reportedly abusive husband – a shot that injured no one – is entitled to a new trial.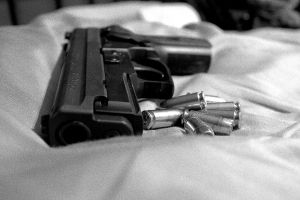 Our domestic violence defense attorneys in Fort Lauderdale are familiar with the case, in which the defendant was given a mandatory 20-year sentence by a reluctant judge after a conviction on a charge of aggravated assault with a deadly weapon.
The appellate court's decision in Alexander v. State of Florida hinged on the fact that the jury had been improperly instructed with regard to the issue of self-defense. Prior to the conviction, the jury had been told that in order for her to claim self-defense, she would have to prove beyond a reasonable doubt that she believed her husband was about to seriously harm her or her children, who were present in the home.

However, the appellate court firmly disputes this instruction, reiterating that the burden of proof regarding guilt in this case sits squarely with prosecutors. It was up to the state to prove that the defendant was guilty – not to the defendant to prove she was justified.
The conviction and harsh sentence involving the 31-year-old mother has drawn the severe ire of civil rights groups, who claim the sentence was fundamentally unfair. State legislators have come forward to express a belief that she should never have been charged at all. The case was seen in sharp juxtaposition to the delayed arrest and subsequent acquittal of north Florida resident George Zimmerman, who successfully argued self-defense under Florida's Stand Your Ground Law after killing an unarmed black teenager.
In the Alexander case, the appellate court rejected the notion that authorities erred in failing to give her immunity under Stand Your Ground, but did say the jury instructions were flawed.
The incident leading to her arrest was preceded by numerous domestic violence abuses she reportedly endured at the hands of her husband, who had admitted to such. Family and friends corroborated her statements that her husband was extremely abusive, regularly inflicting injuries upon her. Her claims were also backed by hospital records and police reports.
Court records reveal that this particular argument was sparked by questions of infidelity regarding the paternity of the couple's week-old infant. She initially locked herself in the bathroom, but the husband broke through the door, grabbed her by the neck and began demanding to know when she last had sexual relations with her ex. She then managed to escape to the garage and tried to leave, but could not get the door open. She then grabbed a gun, for which she had a permit, that was inside the glove compartment of her vehicle. She then walked back into the house, where she was once again confronted by her husband, who threatened to kill her.
She reportedly raised the gun into the air to fire a warning shot to scare him away. It worked.
Except when authorities arrived, she was arrested on the grounds that the weapon had been fired in the general direction of the children. Prosecutors said her decision to go back into the house was not consistent with someone who was in fear for her safety.
She was charged with aggravated assault, per Florida Statute 784.021. Normally, this would be a third-degree felony, punishable by a maximum of five years in prison. However, because a firearm had been discharged in the course of committing this felony, the penalties were enhanced so as to require a minimum 20-year sentence.
As of yet, a new trial date has not yet been set.
If you've been arrested, call Fort Lauderdale Criminal Defense Attorney Richard Ansara at (954) 761-4011. The Ansara Law Firm serves Broward, Dade and Palm Beach counties.
Additional Resources:
Alexander v. State of Florida, Florida 1st District Court of Appeal, Sept. 26, 2013
Additional Resources:
Florida Stalking Cases Make Headlines, Sept. 30, 2013, Broward Criminal Defense Lawyer Blog