In the last handful of years, state lawmakers have handed down increasingly tougher laws pertaining to leaving the scene of a crash – particularly when it involves a fatal crash. Those efforts include a measure last year that increased the penalty for leaving the scene of a deadly crash to a minimum mandatory four years in prison, same as what a defendant would receive for DUI manslaughter.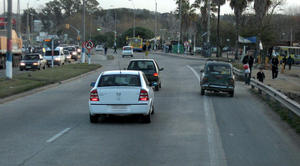 However, a recent Florida Supreme Court decision slightly turns the tables back in favor of defendants. The case is Florida v. Dorsett, and what the court ruled is that prosecutors have to show defendant had "actual knowledge" of a crash in order to secure a conviction for hit-and-run.
This new hurdle to prosecution is based on the principle that a driver can't intentionally leave the scene of a crash he doesn't know has occurred.

Of course, our Broward hit-and-run defense lawyers also recognize this is not a "Get Out of Jail Free" card. Proof of knowledge can be established in a number of ways, most likely through the extent of damage on the vehicle. It might also be formed by witness statements, any confessional statement made by defendant and other evidence.
The underlying case considered by the court occurred in Boca Raton in Palm Beach County, though defendant is from Broward. He had been convicted at trial, but argued trial court erred with jury instructions that failed to incorporate language indicating defendant had to have "actual knowledge" in order to be convicted.
According to court records, defendant was driving a heavy pickup truck on A1A northbound. His windows were rolled up. His air conditioning was on. His windshield wipers were on. He was listening to his radio at full volume. It was raining. He saw a number of people running across the street, away from the beach, as the rain began to bear down. He said once the street cleared, he proceeded through the intersection.
However, he claims he was unaware a young teen, then 15, had lost control of his skateboard and fell across the road, hitting the truck's passenger side undercarriage. Defendant continued driving normally and did not stop. The teen suffered serious and lifelong injuries, including a traumatic brain injury. While most of his peers are finishing college, he is bagging groceries at a local store and lives at home. He will require lifelong care.
Driver was not drunk or impaired. He had no history of health or or hearing problems.
Defendant was stopped three miles from the crash and insisted to police he had no idea he had struck anything, let alone a person.
"The bottom line is if I would have known I had hit somebody, I would have definitely stopped this truck," he told officers.
State charged defendant with leaving the scene of a crash involving injury. He entered a not guilty plea, and case proceeded to trial. There was no damage to the truck. There was no evidence of braking, skid marks, evasive steering, change in speed or brake lights that might suggest someone was trying to flee.
At trial, jurors were instructed the driver was guilty of hit-and-run if he "knew or should have known" he had been involved in an accident. This instruction was given over objection of defense, who wanted it stated driver could only be guilty if there was proof of actual knowledge.
Jury convicted, and defendant was sentenced to two years in prison for third-degree felony.
On appeal, the Fourth District reversed and remanded. However, it also certified the question of actual knowledge in a hit-and-run to the state supreme court. Justices there determined proof of actual knowledge is necessary in order to secure a conviction on that charge.
Call Fort Lauderdale Criminal Defense Attorney Richard Ansara at (954) 761-4011. Serving Broward, Miami-Dade and Palm Beach counties.
Additional Resources:
Florida v. Dorsett, Feb. 26, 2015, Florida Supreme Court
More Blog Entries:
Pregnant Woman Gets 15 Years for DUI Manslaughter that Killed Another Pregnant Woman, Feb. 15, 2015, Florida Hit-and-Run Defense Lawyer Blog