The former director of the Florida State Parks was recently arrested for DUI with property damage and hit-and-run, according to the Tallahassee Democrat, which explained the arrest occurred after defendant was stopped by troopers with the Florida Highway Patrol.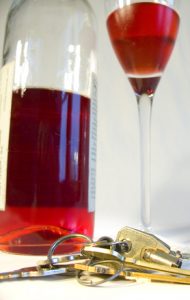 According to reports, the former official, who also previously worked for the state Department of Environmental Protection, had left the scene of a crash after briefly speaking to the other driver. Troopers were called to the scene by that other driver around 7 p.m. on a Saturday. The driver reported he was traveling south when a Mercedes Benz, later identified by police as being driven by the former official, traveling in the same direction veered into his lane and struck his driver's side mirror in passing.
The defendant reportedly pulled over, talked to the other driver for a minute, then rolled up her window and abruptly drove away. Dispatchers then started receiving other calls about a vehicle matching that description in the same area running other motorists off the road
Troopers initiated a stop, at which time they allegedly observed an odor of alcohol on defendant's breath, as well as slurred speech. She told them her damaged mirror had occurred when she and her husband got into a fight a month earlier. She was arrested and taken to jail, at which point she declined to provide a breath sample.
Per Florida's implied consent statute, F.S. 316.1932, a person who is operating a motor vehicle in the state is deemed to have given his or her consent to submit to an approved chemical test or physical test, including breathalyzer tests. (Per a ruling by the U.S. Supreme Court, blood-alcohol tests against one's consent require a warrant.) Failure to submit to a breath test will result in an automatic one-year driver's license suspension. Further, this refusal to submit to the test can be presented as evidence in any subsequent criminal proceeding.
That 1-year license suspension would hold regardless of whether one is subsequently convicted of DUI in Florida.
If defendant in this case were convicted of DUI with property damage and hit-and-run, she would be facing penalties for a first-degree misdemeanor and a second-degree misdemeanor.
DUI with property damage, per F.S. 316.193(1) and (3)(c)(1) holds that a person who is an actual physical control of a vehicle while under the influence of alcohol or drugs and causes damage – directly or indirectly – to the property of another person can be in violation of the law. This is a first-degree misdemeanor, punishable by up to one year in jail, one year of probation, a six-month driver's licence revocation and a find of between $500 and $1,000.
As for hit-and-run, in this case we would look to F.S. 316.061, which outlines circumstances and penalties applicable to crashes involving damage to vehicle or property. The statue requires the driver of any vehicle involved in a crash resulting only in damage to another vehicle or property to immediately stop at the scene or as close thereto as possible and remain there until fulfilling the requirements of F.S. 316.062. Failure to abide is a second-degree misdemeanor, which is punishable by up to 60 days in jail.
In addition to these, a criminal conviction can haunt a person for many years to come, including in the professional sector. An experienced DUI defense lawyer in Fort Lauderdale can help you outline your legal options.
Call Fort Lauderdale Criminal Defense Attorney Richard Ansara at (954) 761-4011. Serving Broward, Miami-Dade and Palm Beach counties.
Additional Resources:
Ex-PSC regulator, parks director charged with DUI, hit and run, April 17, 2017, By Karl Etters, Tallahassee Democrat
More Blog Entries:
Intoxication Defense Presented in Broward Domestic Violence Trial, March 29, 2017, Fort Lauderdale DUI Defense Lawyer