Former Yankee Jim Leyritz caught a legal break Tuesday when a Broward circuit judge released him from jail.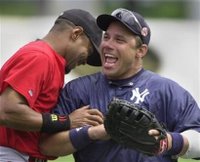 Leyritz, facing DUI manslaughter charges stemming from the December 2007 crash that killed Fredia Veitch, 30, in Fort Lauderdale. A court-ordered monitoring device showed he drove four times with alcohol in his system since September, a violation of his bond.
Attorneys agreed in court this week that Leyritz should be released from jail because of a technicality that voided the warrant for his arrest that had been signed by Broward Circuit Judge Marc Gold.

Richard Ansara is a Fort Lauderdale Criminal Attorney. He is the head attorney of the Ansara Law Firm located in Fort Lauderdale, Florida. The Ansara Law Firm handles Felony and Misdemeanor cases in Broward, Dade, and Palm Beach County. If you have any questions and would like to speak with Criminal Defense Attorney Richard Ansara about your case please call (954) 761-4011.