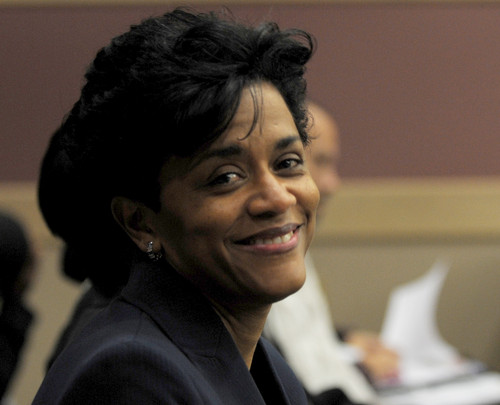 The wife of Fort Lauderdale police chief Frank Adderley has been spared a 20 year minimum mandatory sentence by the Office of the State Attorney for Broward County. Eleanor Adderley was originally charged with aggravated assault with a firearm which carries a stiff 20 year minimum sentence. However, the charge was amended to aggravated assault without a firearm. Bizarrely, her plea also includes the charge of using a gun in an occupied building.
After negotiations with Jeff Marcus, chief of the felony division for the Broward State Attorney's Office, Eleanor Adderley was offered a plea deal that would effectively bypass the 20 year minimum sentence. Marcus said the bargain was a practical way of tailoring the punishment to the crime.
"It's in essence a legal fiction," Marcus said. "Did she discharge the weapon? Of course she did, right? But if we deem that the mandatory sentence would not be appropriate, then we would amend those words out." It's a means to "the right result," Marcus said.
Regardless, many are left to wonder why such an exception was made in this case. "My first impression is that the counts of the plea bargain are internally inconsistent and incompatible, because one of the counts omits the presence of the firearm, while the other presumes the presence of a firearm," said Tony Alfieri, director of the University of Miami law school's Center for Ethics and Public Service. "My second impression is that the plea bargain not only mocks the notion of even-handed criminal justice but also undermines public confidence in the fair and unbiased enforcement of the law."

Richard Ansara is a Fort Lauderdale Criminal Attorney. He is the head attorney of the Ansara Law Firm located in Fort Lauderdale, Florida. The Ansara Law Firm handles Felony and Misdemeanor cases in Broward, Dade, and Palm Beach County. If you have any questions and would like to speak with Criminal Defense Attorney Richard Ansara about your case please call (954) 761-4011.