It's estimated that more than 2,000 people die every year in domestic violence incidents in the U.S. Of those who die, more than 70 percent are women and in more than half of all cases, it's a firearm that is used to carry out the crime.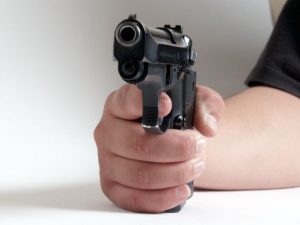 Although the issue of availability of firearms is a controversial one in this U.S., but there is little denying the fact that the link between firearms and fatal domestic violence is strong. Just living in a state with a higher rate of gun ownership increases a female's risk of suffering a fatal gunshot wound in a domestic violence, according to Boston University researchers. That study, released in January, indicated that for every 10 percent increase in gun ownership in a state, there was a 10.2 percent increase in gun-related murders of females.
Additionally, while firearms aren't necessarily the fuel in domestic violence incidents, their presence does increase the lethality of an attack and also increases the number of victims (i.e., children, grandparents, friends, strangers, etc.). This phenomenon was chronicled recently in a comprehensive article by The Trace. Another thing the presence of a firearm does – whether it's lethal or even fired – is increase the severity of the charges and the possible punishment.
From 2006 to 2012, 56 percent of the domestic violence-related homicides were committed with guns, according to the state's Domestic Violence Fatality Review Board.
Federal law prohibits a person convicted of domestic violence from owning a gun, so there is the possibility of facing that charge. However Florida law does not prohibit individuals convicted of domestic violence misdemeanors from owning, purchasing or possessing a gun or ammunition. State law does require the Florida Department of Law Enforcement (FDLE) to review available records to determine if someone trying to purchase a gun from a licensed dealer is prohibited from owning a gun by federal law. Additionally, the state prohibits persons who have been issued a final injunction for domestic violence, stalking or cyberstalking from purchasing or possessing a gun.
Florida law deems it a violation of a protective order if one refuses to surrender firearms if the court has ordered the individual to do so, per Fla. Stat. § 741.31(4)(a)(8). However, it should be noted Florida doesn't explicitly authorize police to take firearms from someone with a protective order against them. Neither does Florida law require those convicted of domestic violence to surrender their firearms. Further, state law doesn't require private sellers (i.e., those at gun shows or over the internet) to conduct background checks. Although there was previously a federal "official use exemption" that allowed law enforcement and active-duty military to retain their firearm even if they were subject to a qualifying order of protection, the Lautenberg Amendment in 1996 eliminated this exemption. That amendment has withstood numerous constitutional challenges based on various theories, including violations of the Second Amendment, due process, equpa protection, ex post factor and the commerce clause.
Understanding your rights and responsibilities if you've been accused of domestic violence or have been issued an injunction is imperative.
Call Fort Lauderdale Criminal Defense Attorney Richard Ansara at (954) 761-4011. Serving Broward, Miami-Dade and Palm Beach counties.
Additional Resources:
12 Facts That Show How Guns Make Domestic Violence Even Deadlier, Sept. 14, 2016, By Kerry Shaw, The Trace
More Blog Entries:
Florida Supreme Court Considers Expert Witness Standard Changes, Sept. 17, 2016, Fort Lauderdale Domestic Violence Attorney Blog