In the wee hours of the morning in early October, the starting cornerback at Florida State University was returning from a celebration of his team's victory. Meanwhile, in the opposite direction, a teenager was returning home from his shift at the Olive Garden.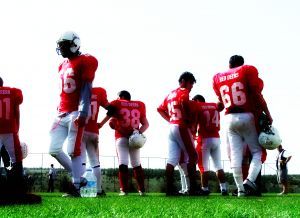 The football player reportedly entered the oncoming lane. Both vehicles were totaled. While Florida law requires any driver involved in a crash to remain at the scene, the football player and his two friends allegedly fled on foot.
This was serious. First of all, DUI in and of itself is a considerable offense, punishable per F.S. 316.193 with up to six months in jail, a $1,000 fine and possible ignition interlock installation for a first-time conviction. Involvement in a wreck with property damage while drunk is a first-degree misdemeanor, punishable by up to one year in jail. Causing serious bodily injury in a DUI crash is a third-degree felony, punishable by up to five years in prison. Then there is the hit-and-run aspect, which per F.S. 316.027 carries a five-year prison term if the crash resulted in injury and a 30-year prison term if the crash resulted in death.

However, our Fort Lauderdale DUI defense lawyers understand the football player avoided criminal charges, instead being issued two traffic citations.
A recent story in The New York Times delves into the case. Essentially, the local police department in Tallahassee cut him a break – the kind of break you almost certainly won't get if you are suspected of the same.
According to the Times, the local police department responded to the off-campus incident, initially labeling it a hit-and-run criminal accident. However, after officers reached out to university police and the school's athletic department, the football player, who was driving on a suspended license, was merely issued two non-criminal citations.
Even when the player eventually returned to the scene, officers never tested him for alcohol. There is no indication in their report they asked whether he had been drinking alcohol or why he fled. These would generally be considered standard questions, particularly given that the crash occurred shortly after 2:30 a.m. near a college campus.
Further, the police report omitted the fact the other driver's airbag had deployed. This is usually an important fact in these cases because it indicates force of impact. It also would have explained the various cuts and bruises on the other driver's hands.
Further, the university police department sent two ranking officers to the scene of the crash. One was a shift commander. This might not have been noteworthy, except for the fact university police held no jurisdiction over the crash, and the local city police don't routinely contact university police for back-up in crash investigations. The university police never logged that response into their own computers, indicating the involvement of those officers was so minor it wasn't worth reporting. A spokesman for the agency said it was comparable to an officer responding to a call of a possum falling out of a tree.
The report of the crash was also interestingly not listed in the city police department's own call logs, something a department spokesman said was a technical glitch.
All this explains why the local news media never reported it when it happened.
This incident follows a host of harsh criticism over apparent preferential treatment given to student athletes in criminal proceedings. For example, the 2012 rape allegation against a quarterback resulted in virtually no police investigating. He later went on to win the Heisman Trophy.
In the case of the hit-and-run, the cornerback was named most valuable defensive player.
Police would later say they did not charge the player with hit-and-run because he returned to the crash scene 20 minutes later without contact from the police. But let's be clear: This is not the way it usually works. If you flee the scene for any length of time, you can and most likely will face criminal charges.
Just take the example presented by the Times as a comparison to this case: An 18-year-old driver – not a Florida State Football player – was involved in a minor, low-speed crash resulting in no injuries and fled the scene. He and his mother contacted police a half hour later to report the crash. That driver was charged with criminal hit-and-run.
While you can decide for yourself whether favoritism was involved in this case – something authorities vehemently deny, it's important to point out most hit-and-run drivers don't get that kind of slap on the wrist. Minimizing the impact of such an arrest requires the help of an experienced defense lawyer.
Call Fort Lauderdale Criminal Defense Attorney Richard Ansara at (954) 761-4011. Serving Broward, Miami-Dade and Palm Beach counties.
Additional Resources:
Florida State Player Fled Crash but Got Only Traffic Tickets, Nov. 14, 2014, By Mike McIntire and Walt Bogdanich, The New York Times
More Blog Entries:
Florida, Ohio Issue Conflicting DUI Breathalyzer Rulings, Nov. 7, 2014, Fort Lauderdale DUI Defense Lawyer Blog