The boy was just 15-years-old in November 2015, allegedly driving a stolen Mustang convertible at reported speeds of up to 120 mph as he tried to evade the police officers chasing him, lights flashing.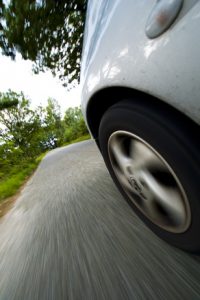 At the same time, a woman was on her way to pick up her own teenager, a 16-year-old girl who was in dance class. She never saw the convertible that crossed through that intersection. The 46-year-old woman, a mother of two, was ejected from the vehicle and died instantly, according to The Sun-Sentinel. The crash occurred at the intersection of Palmetto Park Road and Northwest Second Avenue, after the teen reportedly ran a red light.
Prosecutors have direct-filed the teen as an adult on charges of vehicular homicide, fleeing the scene of a fatal crash and driving without a license. If convicted on all charges, he faces up to 25 years in prison. His first trial took place in January and ended in a mistrial. Jurors reportedly deliberated for more than nine hours and still were unable to reach a unanimous verdict. 
The teen's criminal defense attorney argued during the first trial (and is likely to argue again) that the teen should be acquitted of the crimes for two reasons, both of which occurred shortly before the fatal crash. The first was that the teen reportedly received a death threat from his front seat passenger just minutes before the crash. That passenger was known to the teen to be a convicted felon who he believed was in possession of a firearm. The second factor in this case is the fact that the teen suffered an asthma attack right before the crash and had passed out. He was therefore not in control of the speeding car when it slammed into that sport utility vehicle.
Defendant's attorney explained that while her client physically carried out the actions alleged, he is not legally responsible for them because his life had been threatened and he had a medical emergency. He was physically unable to stop or swerve or avoid the accident.
Prosecutors, however, allege the woman's death was clearly a consequence of defendant's choices. He made a choice, they said, to get in the car with the convicted felon and he made a choice to flee from police. Ultimately, it was the decedent who suffered the greatest consequence of those choices.
Hours before the collision, the rental vehicle driven by defendant was stolen at gunpoint from a valet in Boca Raton. Defendant, according to his lawyer, was unaware of that fact when he saw the felon driving in their neighborhood and asked him for a ride. The two drove to a gas station, where defendant met up with a friend who owed him money. He then put some air in the tire. While at the gas station, a local K-9 officer saw the Mustang, and recognized it as stolen. He activated his patrol lights and siren. Defendant was behind the wheel and, according to his lawyer, the man who stole the car ordered him to go – and not to stop – or he would kill him because "I'm not going back to prison." The 20-year-old passenger was reportedly on probation for previous charges of kidnapping and robbery with a firearm.
Defendant was panicked and began to suffer from an asthma attack. He searched frantically for his inhaler as a second police car joined the chase, but he couldn't find it. Defense attorneys say he was unconscious when the Mustang struck the SUV.
The passenger fled, but was soon caught and charged with resisting an officer without violence, a misdemeanor.
Defendant, meanwhile, pleaded guilty to charges of robbery, grand theft auto and burglary, for which he will serve three years in a maximum security juvenile commitment program. However, the question is whether he will serve time for the vehicular homicide charge, a first-degree felony under F.S. 782.071 when the person knew or should have known an accident occurred and failed to render aid or give information as required by law.
Call Fort Lauderdale Criminal Defense Attorney Richard Ansara at (954) 761-4011. Serving Broward, Miami-Dade and Palm Beach counties.
Additional Resources:
Retrial starts for teen charged in fatal Boca Raton crash, Feb. 7, 2017, By Marc Freeman, The Sun-Sentinel
More Blog Entries:
Court Orders Remedy of Thousands of Flawed Drug Convictions, Feb. 1, 2017, Fort Lauderdale Defense Lawyer Blog