In criminal prosecutions in Florida, the state has to establish a "chain of custody" for certain kinds of evidence in order for it to be admitted.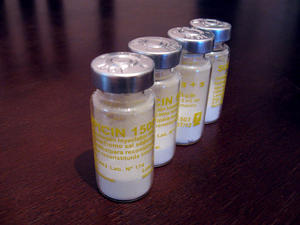 Prosecutors have to show that what they are offering into evidence is exactly what they purport it to be. For example, the drugs being shown to the judge and jury are exactly the drugs that were found on the defendant, or the pieces of clothing are the exact garments that were stolen from a given store in a shoplifting case.
In order to prove that those items are one in the same, prosecutors have to show who had possession of those items at all times between the time they were seized by law enforcement until the time of trial. This is the "chain of custody." It's the reason why storage of evidence is often critical in criminal cases, particularly when certain exhibits may have been altered or tested. A break in the chain of custody could result in suppression of evidence, which is typically an advantage for the defense.

In the recent case of Williams v. Florida, before Florida's First District Court of Appeal, a chain of custody issue led to an appeal that successfully opposed reversal of an earlier order of evidence suppression.
This was a West Palm Beach drug arrest. According to court records, defendant was approached by officers outside a store, at which they were authorized to issue trespass warnings. A detective asked defendant for authorization, ran warrants and found none.
Still, the officer proceeded in a pat-down of defendant. The facts from this point on are disputed, but according to the state, detective felt an object in defendant's pocket. At this point, defendant allegedly swung at the detective, missed and ran. Officers soon caught him and pushed him to the ground. Detective then looked down to notice a container had fallen from defendant's pocket. The container was partially opened and contained pieces of crack cocaine, which were falling out of defendant's pocket and onto the ground.
After his arrest, authorities searched defendant incident to arrest and allegedly found another container of crack cocaine in defendant's pocket.
Defendant moved to suppress evidence of the two containers of drugs. The first trial judge on the case granted the order to suppress on the first container, but not on the second.
Four years after that, defendant's case was called to trial under a second judge. At the beginning of trial, prosecutors notified the court there was some concern as to the evidence. During storage, the tops of the containers opened, and there were simply pieces of cocaine floating around in a single bag. Prosecutors noted the previous judge's order only allowing for introduction of one of those containers.
Jury returned a verdict of guilty of all charges.
Defendant appealed on grounds trial judge departed from his role as a neutral arbiter and acted in a way that reasonably questioned his impartiality. Specifically, the judge prompted the state to move for reconsideration on the suppression order after a chain-of-custody issue arose, which the appeals court ruled was reasonable grounds for defense to question trial court's neutrality.
The conviction was reversed and the case remanded for a new trial.
Call Fort Lauderdale Criminal Defense Attorney Richard Ansara at (954) 761-4011. Serving Broward, Miami-Dade and Palm Beach counties.
Additional Resources:
Williams v. Florida, April 1, 2015, Florida's Fourth District Court of Appeal
More Blog Entries:
Florida Supreme Court: No Life Sentences for Juveniles, March 31, 2015, Palm Beach Criminal Defense Lawyer Blog