Florida is fairly permissive with regard to firearm purchase and possession, but there is a major exception: Felons. In the state of Florida, it is illegal for those convicted of felonies to possess firearms and/or ammunition.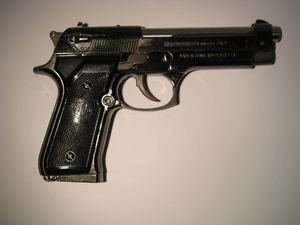 There are two general exceptions to this. The first is when a convicted felon has his or her civil rights restored AND firearm authority restored through the state Clemency Board. It's not enough that one receives a general restoration of rights. In order to restore firearm authority, an application has to be filed, and there is a waiting period of at least eight years from the date the sentence expired. The second allowance is when the firearm qualifies as an antique gun per F.S. 790.001(1).
The definitions of "possession" and "antique" were central in the case of Wright v. Florida, in which a man convicted of being a felon in possession of a firearm and ammunition appealed that conviction in Florida's 4th District Court of Appeal.

Defendant had been convicted of violating F.S. 790.23, which involves the unlawful possession of a firearm by a felon.
The facts of the case begin with a search warrant, which was initially unrelated to defendant. Officers with the St. Lucie County Sheriff's Office SWAT team were preparing to execute this search warrant on a home in Fort Pierce. As they were preparing to enter the home, two detectives were situated in an unmarked car, about 200 yards away from the home. As uniformed officers entered the home to serve the search warrant, the detectives scanned the crowd that was gathering nearby.
As they were doing this, one of the detectives saw a man, later identified as defendant, walk up to a trash can, open the lid, look over both shoulders, remove an item from his right side, partially put his entire upper torso into the trash can, came back out of the trash ca, look over both shoulders and then walk away. The detective asked his partner if he had just seen what happened, and he had. The detectives kept watching the can, and no one else approached it.
Detectives instruct another officer to look in the trash can. There, he located a firearm.
The gun was taken from the trash can and found to be loaded with ammunition. Defendant, who was still standing in the area, was arrested. After he was read his Miranda rights, defendant reportedly confessed he'd placed the gun there. He even mentioned the correct caliber of the gun, which had not previously been disclosed to him.
Later at trial, an expert witness for the state noted she could not tell whether the gun was an antique (and therefore whether defendant would have lawfully possessed it). There was a lack of marking son the gun, and it was possible it was manufactured prior to 1918. (Guns made prior to that year are considered antique.) State expert said she could not be sure of the gun's age.
The firearm was admitted into evidence, and so was a magazine that contained ammunition.
Defense counsel sought an acquittal, claiming state failed to prove defendant possessed a firearm because no one actually saw the gun in his hand. Secondly, defense argued the state failed to prove the firearm wasn't an antique. However, trial court denied this motion.
Prior to deliberation, there was a question on the jury form as to whether the verdict form should refer to possession of a firearm OR ammunition. Both sides agreed to the wording.
In closing arguments, prosecutor argued state had proven possession because of defendant's actions at the trash can were not consistent with the argument he was simply throwing garbage away. But further, the state argued it didn't matter if the gun was antique because the gun was loaded with ammunition, and jurors could convict him of "possession of a firearm OR ammunition by a convicted felon."
Defense did not object to this, and defendant was convicted.
He appealed, but the appellate court affirmed.
These cases can have severe consequences, so it' imperative to discuss your options with an experienced defense lawyer.
Call Fort Lauderdale Criminal Defense Attorney Richard Ansara at (954) 761-4011. Serving Broward, Miami-Dade and Palm Beach counties.
Additional Resources:
Wright v. Florida, Sept. 2, 2015, Florida's 4th District Court of Appeal
More Blog Entries:
Tucker v. Florida – Stale Information in a Search Warrant, Aug. 31, 2015, Fort Lauderdale Criminal Defense Attorney Blog