There is an inherent interplay between criminal and immigration law that has recently come under an intense spotlight since the Trump administration has taken a hard line on immigration policies,. This includes aggressive action by immigration authorities to initiate proceedings against those with decades-old criminal convictions for non-violent crimes. In the past, that usually involved recent convictions for felonies – violent crimes in particular – and typically only undocumented immigrants.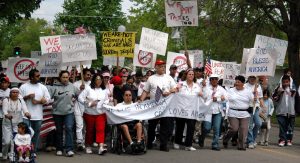 However, as the Miami Herald reported recently, even documented immigrants, such as those holding green cards who have green cards and are long-time residents, aren't immune. In fact, this is now policy per new guidelines passed earlier this month by U.S. Citizenship and Immigration Services have indicated that immigrants who abuse any program that is related to acceptance of public benefits can be brought before an immigration court and subject to removal if evidence of fraud or willful misrepresentation is established. Under this new guidelines, immigration officials actually have expanded authority to issue Notices to Appear, which is what starts the whole deportation process.
Since the 2010 U.S. Supreme Court case of Padilla v. Kentucky, criminal defense lawyers have been required to advise non-citizen clients about the possible immigration consequences that may result from acceptance of a guilty plea. Failure to do so amounts to a violation of one's Sixth Amendment guarantee of effective counsel. A violation on this front can be grounds for post-conviction relief, including possibly a modification of one's criminal sentence or a new trial. 
Generally, though, this has not involved any accusation pertaining to the receipt of public benefits. Legal permanent residents are allowed to receive federal benefits like Medicaid, Temporary Assistance for Needy Families, Supplemental Nutrition Assistance Program, Supplemental Security Income and Children's Health Insurance Program. In fact, just receiving these benefits at all – fraud or not – could be grounds to deny one's Green card application, according to a new proposal offered up by the Homeland Security Department. The administration has also committed to increased and expedited deportation procedures, often specifically targeting permanent residents who have applied for citizenship.
Historically, conditions that could spur deportation would include:
Crimes of moral turpitude (within 5-to-10 years of admission) or any offense for which a sentence of a year or more may be imposed;
Multiple criminal convictions;
Aggravated felonies;
High speed flight from immigration checkpoint;
Failure to register as a sex offender;
Controlled substances offenses (typically trafficking, though also drug abuse or addiction);
Certain firearms offenses;
Crimes of domestic violence, including stalking, child abuse and violation of protection orders.
Marriages used to generally prevent deportation. However, as The New York Times has reported, that's not the case anymore. Immigration attorneys have even gone so far as to warn undocumented immigrants against using marijuana – recreational or medicinal, even if it's legal – given the heightened potential for deportation.
Non-citizens – documented or undocumented – are still extended the protection of constitutional rights of due process in criminal proceedings. It is now more imperative than ever for them to secure an experienced Fort Lauderdale criminal defense attorney if facing criminal charges – whether it's a minor traffic citation or a felony. Exercising your right to a strong criminal defense isn't just about helping you avoid the consequences for that particular offense, but also the potential immigration consequences that may result.
Call Fort Lauderdale Criminal Defense Attorney Richard Ansara at (954) 761-4011. Serving Broward, Miami-Dade and Palm Beach counties.
Additional Resources:
Even with a green card, an immigrant can be deported under new guidelines, July 13, 2018, By Daniel Shoer Roth, The Miami Herald
More Blog Entries:
Plea Bargaining May Be No Bargain – Consult A Defense Attorney, June 29, 2018, Fort Lauderdale Criminal Defense Attorney Blog