Prosecutors say Pelayo Alexander Cerulia grew increasingly brazen with his exploits over the course of two years. He allegedly started by peering into the homes of unsuspecting women. Then he started doing so while touching himself. Then, he began shattering their windows with marbles fired from a slingshot. Then, in the most serious incident, he is accused of trying to break into a woman's home this past July, demanding that she show her breasts and bragging he would never be caught.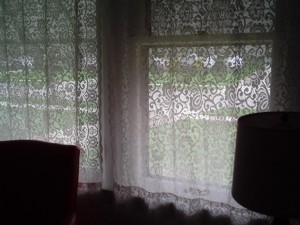 The Sun-Sentinel reports Cerulia was terrorizing the same five women (and possibly others) over the course of 24 months. The women tearfully spoke publicly about these repeated encounters and Cerulia turned himself into police two days later, on New Year's Eve.
Initially, prosecutors argued the judge should set no bond in the case, arguing the 43-year-old defendant was a danger to the community. But defense argued there was a significant flaw in the eyewitness account provided by the woman who alleged attempted burglary: She described a man who was "Irish-looking" with "reddish complexion" who was a "pasty white guy." His client's skin is tan and his hair is dark and graying near his temples. He also has thick black eyebrows. 
The judge denied bond at first, given the fact that one of the charges against him – burglary with aggravated battery – is punishable by a maximum sentence of life in prison. Other charges pending include numerous counts of aggravated stalking and firing a missile into a dwelling. After two days of hearings on the matter, the judge set bond at $140,000.
Prosecutors have said they plan to file a new motion on the matter, raising a previously-sealed sexual battery case against defendant from nine years ago that they couldn't access until now.
Of course, the battle over bail is just the first this defendant is going to face. The allegations pending against him are on the serious side of what is commonly called, "peeping." In legal terms, we refer to it as, "voyeurism." F.S. 810.14 details the legal definition of voyeurism and the penalties. The law says anyone with lewd, lascivious or indecent intent who secretly observes someone in a dwelling, structure or car where that person has a reasonable expectation of privacy breaks the law. This charge may also be filed if a person with indecent intent secretly observes another person's intimate areas in which that person has a reasonable expectation of privacy, even if he or she is in public. These would be any portion of a person's body or undergarments covered by clothing and intended to be protected from public view.
Voyeurism falls under Florida's "burglary and trespass" statutes, and is considered a first-degree misdemeanor, punishable by up to one year in jail.
So how did Cerulia go from facing maybe a year in jail to potentially life in prison? It has to do with the fact that not only were his alleged actions against numerous individuals over a period of time (so there are multiple charges), but that he became more aggressive. Breaking into an occupied dwelling with an intent to commit a felony is serious. In fact, it is a first-degree felony.
Certainly in this case, the weak eyewitness testimony could serve the defense well.
Our Broward defense attorneys advise anyone accused of this or any other crime of this nature to withhold comment to police before discussing legal options with an experienced lawyer.
Call Fort Lauderdale Criminal Defense Attorney Richard Ansara at (954) 761-4011. Serving Broward, Miami-Dade and Palm Beach counties.
Additional Resources:
Bail in Pembroke Pines peeping Tom case adds up to $140,000, Feb. 3, 2016, By Rafael Olmeda, Sun Sentinel
More Blog Entries:
Broward Marijuana Citation Program to Launch, Feb. 1, 2016, Broward Criminal Defense Attorney Blog