Gerard Nelson was just 24-years-old, but he and his crew – the Str8Profit Boyz – were on the rise.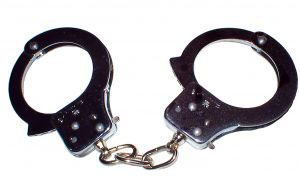 To those on the outside, it appeared they were living a luxurious lifestyle funded by their creativity and business savvy as rappers and music producers.
In reality, authorities say Nelson and his cohorts were actually making their money selling sex and drugs. Now, Nelson is the first of his co-defendants to be convicted. He is the first Broward County man to be deemed guilty under  human trafficking laws passed two years ago, according to The Sun Sentinel. He now faces life in prison. 
According to news reports, Nelson and his five co-defendants were arrested last year, following a 12-month investigation into their "rap group," which authorities assert was a cover for illegal prostitution of teen girls.
The charges against Nelson pertained to his involvement in the trafficking of three teen girls – one of whom was fictitious. A female police officer pretended to be a 16-year-old girl, and Nelson reportedly attempted to recruit her to his prostitution ring.
Ultimately, he was only convicted of charges pertaining to two alleged victims (including the undercover police officer) because one of the others refused to testify.
Some human trafficking cases – including some of those pending against others in Nelson's group – are tried under charges that include racketeering, procuring a minor for prostitution and profiting from prostitution.
According to F.S. 895.02, racketeering is usually associated with organized crime and typically involves the act of offering a dishonest service to solve a problem that wouldn't exist but for the enterprise offering the service. The statute is sometimes referred to as the "RICO" law. In these cases, RICO offenses are specifically related to F.S. 827.071, sexual performance by a child.
F.S. 796.03, procuring a person under 18 for prostitution, is a second-degree felony, punishable by up to 15 years in prison. Selling or buying of minors into prostitution is a first-degree felony, punishable by life. F.S. 796.05, deriving support from the proceeds of prostitution, is a third-degree felony.
Meanwhile, the human trafficking statute, as codified in F.S. 787.06, involves transporting, soliciting, recruiting, harboring, providing, enticing, maintaining or obtaining another person for the purpose of exploitation of that person. When it involves commercial sexual activity of a child under 18, it's a life felony. When it involves coercion for commercial sexual activity, it's a first-degree felony.
In Nelson's case, jurors took just 70 minutes before finding him guilty. He is schedule to undergo sentencing in June. Meanwhile, five others who were arrested alongside him are preparing for trial.
Human trafficking is considered a form of modern-day slavery, and as such, it's imperative to secure a strong defense. In these situations, accusations can be taken far out of context or misconstrued.
When you've got so much on the line, you need a criminal defense team that posses the legal knowledge and sophisticated defense techniques to give you the greatest advantage at trial or during the plea bargain phase.
At The Ansara Law Firm, our sex crimes defense lawyers have an excellent track record and are dedicated to fighting for an advantageous outcome for our clients.
Call Fort Lauderdale Criminal Defense Attorney Richard Ansara at (954) 761-4011. Serving Broward, Miami-Dade and Palm Beach counties.
Additional Resources:
West Park rapper convicted in Broward human trafficking case, May 13, 2016, By Rafael Olmeda, The Sun Sentinel
More Blog Entries:
Driver Faces Felony Charges in Florida Crash Injuring Pregnant Mother, Children, May 13, 2016, Broward Criminal Defense Lawyer Blog