A senior at Florida International University who played on the football team's tight end was reportedly the victim of a domestic violence attack that has ended his career.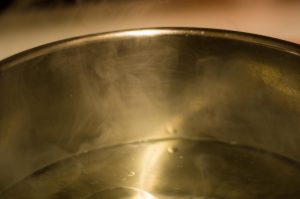 The Miami Herald reports the Panthers' 2017 NFL Draft prospect suffered severe burns on his head, neck, back, arm and shoulder after his girlfriend reportedly dumped boiling water on top of him. The woman, Mary Gaspar, 20, is reportedly five months pregnant with Jonnu Smith's child, and has been charge with a single count of aggravated battery. Gaspar is also a student at the school, a junior who lives on campus.
The couple were reportedly arguing in Smith's dorm when defendant is alleged to have boiled the water and walked over and poured it on top of Smith. She reported she was livid over Smith's failure to attend to their relationship and was feeling extremely stressed out and emotional. When Smith reportedly did not act strongly enough to the boiled water on his skin, Gaspar allegedly started to strike him with her fists.
The extent of Smith's burn injuries aren't exactly known, though he has reportedly returned to classes, although he is still not in any condition to play football. He had boasted some of the best college stats in the country, having the most tight ends in receptions, receiving yards and touchdowns in 2014.
At a bond hearing, defendant was ordered that upon her release, she is to have no contact with Smith. Otherwise, the judge warned, she would be in jail while awaiting trial, in which case she would likely give birth to a child while behind bars.
We must bear in mind that what has been reported is only based upon the initial police report, and all of the facts may not have been fleshed out by law enforcement officials. That's where an experienced violent crimes defense attorney is essential.
Aggravated battery is spelled out in F.S. 784.045. Obtaining a conviction involves proving a person intentionally or knowingly caused great bodily harm, permanent disability or permanent disfigurement in the course of committing a battery. It could also involve the use of a deadly weapon. A regular battery could be upgraded to an aggravated battery if the offender knew or should have known the victim was pregnant, but there are no allowances for leniency if the offender was pregnant.
The crime is a second-degree felony, which means it is punishable under Florida law as a second-degree felony.
Domestic violence is defined in F.S. 741.28 as any assault, aggravated assault, battery, aggravated battery, sexual assault/ battery, stalking, kidnapping or false imprisonment resulting in physical injury or death of a family/ household member (could mean spouse or former spouse – regardless of whether they were ever married – or those show share a child in common). The law requires the state attorney's office to perform an investigation of a defendant's domestic violence history and take that into consideration in setting bond and sentencing. Also the court has to consider in determining bail the safety of the alleged victim and anyone else who might be endangered.
Defending an aggravated battery charge may involve asserting:
Self-defense;
Lack of intent to touch or strike;
No intent to cause great bodily harm/ disfigurement;
Instrument used not a "deadly weapon":
Consent/ mutual combat.
Based on the harsh penalties that apply to an aggravated battery charge, it's imperative to have an experienced attorney to protect the rights and best interests of the accused.
Call Fort Lauderdale Criminal Defense Attorney Richard Ansara at (954) 761-4011. Serving Broward, Miami-Dade and Palm Beach counties.
Additional Resources:
She wanted more attention from a top football player. So out came boiling water, Nov. 10, 2016, By David J. Neal, The Miami Herald
More Blog Entries:
Kranchick v. State – DUI on Cough and Cold Medicine, Nov. 6, 2016, Fort Lauderdale Domestic Violence Defense Attorney Blog