Dontrell Stephens was awarded $23 million earlier this year by a federal jury after he was paralyzed from the waist down when shot by a Palm Beach County sheriff's deputy after being stopped for riding his bicycle into traffic.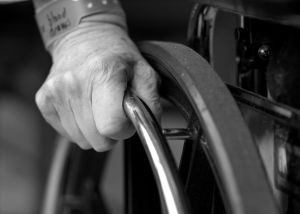 Now, he is facing felony drug charges for reportedly selling heroin, cocaine and marijuana in close proximity to a preschool. Authorities announced the arrest of the 23-year-old Palm Beach County man in a Facebook post with his mugshot and the hashtag "BUSTED." It was the first arrest the agency announced since it posted news of an arrest in a 40-year-old murder case. A spokeswoman for the sheriff's office said the announcement on Facebook had "nothing to do with who he is, but was because he was arrested for selling drugs near a day care."
Right…
She also insisted the agency wasn't trying to publicize the arrest because they hadn't issued a press release to the media. Formal press release or not, most reporters do follow the agency's official Facebook page and would have seen it featured fairly prominently. 
It should be noted that Stephens is never going to see more than a fraction of that $23 million damage award. In fact, the most he can hope to receive is $200,000, which is the cap on damage awards in civil cases against state government agencies under Florida law. However, he hasn't seen a dime of that even because the sheriff's office is appealing the verdict.
This, according to Stephens' defense lawyer, as quoted by CBS News, had driven his client into poverty and desperation. He receives a small monthly check from Social Security Disability Insurance. He also relies heavily on the kindness of his friends. His attorney said that while there is no excuse for involvement in illegal drug trade, his client had been in dire financial straits since his injury.
That incident occurred in September 2013. Stephens was stopped for riding his bicycle into traffic. The deputy shot him four times after alleging Stephens reached into his waistband with his left hand and "flashed" a dark object. The deputy believed this was a handgun. Stephens had always insisted he was raising his hands and the deputy had no reason to fire. A dash camera video recording showed defendant's left hand was empty, while he had a cell phone in the right hand.
Jurors deliberated less than four hours before deciding the case in plaintiff's favor.
Meanwhile, the deputy in question was cleared of criminal wrongdoing and remained with the sheriff's office.
Although the timing of this arrest and the special announcement the agency made of it is questionable, that alone will probably not be enough to raise reasonable doubt of his guilt.
F.S. 893.135 spells out the possible penalties for drug trafficking, and it most often depends on the weight/ volume of the substance in question.
Possible defenses in such a case might include:
Deputies lacked probable cause to conduct a search;
Police did not obtain a warrant prior to conducting a search when they should have;
There was no intent on part of defendant to traffic drugs;
Suppression of certain statements or other evidence that serves to weaken prosecutors' case.
If you have been arrested for drugs in Fort Lauderdale, our criminal defense attorneys can help.
Call Fort Lauderdale Criminal Defense Attorney Richard Ansara at (954) 761-4011. Serving Broward, Miami-Dade and Palm Beach counties.
Additional Resources:
Man who won $23M lawsuit against Fla. sheriff's office arrested on drug charges, Oct. 20, 2016, Staff Report, CBS News
More Blog Entries:
Report: Marijuana Arrests Outnumber Those for Violent Crimes, Nov. 2, 2016, Fort Lauderdale Drug Crimes Defense Attorney Blog