An argument over a pot-gobbling pooch ended with a South Florida model in handcuffs after telling deputies her boyfriend had repeatedly walked into the knife in her hand.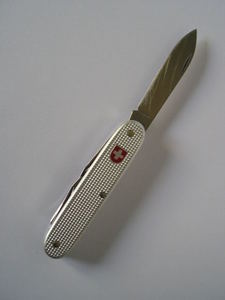 The 26-year-old was arrested for domestic battery in Dania Beach after responding deputies took note of a couple small knife cuts to the boyfriend's head and face and another cut across his hand. He was not seriously injured and did not require hospitalization.
Although reporters described the judge as "bemused" as he read aloud the incident report before the court during the defendant's first appearance, a charge of domestic battery is no laughing matter.

At a bare minimum, Florida Statute 741.283 requires a person convicted of domestic violence (that is, intentional infliction of bodily harm to a family member, household member or romantic partner) to be imprisoned for five days.
However, it is possible that someone may serve much more time, particularly if the other party was injured. There might also be the possibility of domestic violence protection orders, which could keep a person a certain distance away from the alleged victim for an extended period of time. That would be accompanied by the confiscation of any firearms or other weapons, regardless of whether you have actually been convicted of a crime. And if you are convicted, you may be forced to undergo expensive and time-consuming batterers' intervention courses, not to mention you could be subject to deportation if you are an immigrant. Such convictions may also have an impact on your position at work and any child custody arrangements you have currently in place.
In cases where the defendant was armed with a deadly weapon (in this case, a knife), he or she may be found guilty of aggravated battery, which is a second-degree felony under Florida Statute 784.045. That crime is punishable by up to 15 years in prison.
That's a hefty possible price to pay for a fight over a cannabis-consuming canine.
According to the affidavit, deputies were called the couple's apartment regarding a domestic dispute. After it was discovered the dog had reportedly wolfed down the weed, the boyfriend said the girlfriend ordered him out of the house.
He said he tried to leave, but was having trouble locating his personal items. The girlfriend had reportedly hidden it. When he questioned her about where she put his computer, he said, she attacked him with a knife.
However, she told a different story. According to her, the two were bickering over dinner plans. She said she became fed up and attempted to leave. However, her boyfriend would not allow her to do so. As a result, she pulled out a small, pink pocketknife in an effort to protect herself. She said he "walked into" the knife several times as the two continued to argue near the doorway.
While domestic battery cases used to almost always result in the arrest of the male half, that is no longer always the case. Officers are generally inclined to arrest at least one person prior to leaving the scene of a domestic dispute. If one party has suffered injuries – even very minor injuries – it's likely the other half will face charges.
But an arrest does not equal a conviction. It's very possible that this was in fact a case of self-defense. Proving it, however, is going to take an experienced criminal defense lawyer.
If you've been arrested, call Fort Lauderdale Criminal Defense Attorney Richard Ansara at (954) 761-4011. The Ansara Law Firm serves Broward, Dade and Palm Beach counties.
Additional Resources:
Dania model accused of knifing boyfriend after his dog eats her marijuana, Oct. 21, 2013, Sun Sentinel
More Blog Entries:
Florida's "Bong Ban" May be Weak, but Charges Still Possible, July 30, 2013, Fort Lauderdale Domestic Violence Defense Lawyer Blog