Most people view domestic violence as a kind of misdemeanor crime that can fairly easily be overcome in court, as the accusations are largely he-said-she-said.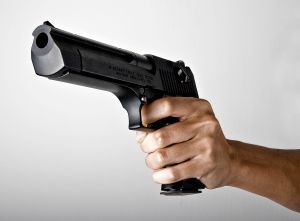 Sometimes, this is true. And it's also true that a lot of allegations get overblown as a result of statements made in the intensity and heat of an emotional argument. However, it's also true that certain domestic violence cases in Florida can result in felony convictions accompanied by decades-long prison sentences.
In the recent case of a former Broward County bailiff, reports say he narrowly escaped a life sentence for a conviction on charges that he kidnapped and raped his wife on the day she asked for a divorce.

Instead, he received 20 years.
In the same courtroom where he once kept order, he was convicted last month by a jury of handcuffing his wife, shackling her, holding her at gunpoint while he questioned her and then sexually assaulting her.
The couple had been together for 30 years and separated for just one year at the time the attack reportedly occurred at a local motel.
Testifying that the ordeal lasted several hours, she described a situation in which her husband fired a bullet through her cell phone and then sexually assaulted her with an object.
At his sentencing hearing, she spoke again, as did his adult daughter, who said she no longer recognized the man he had become and derided him for "heartless, destructive" crimes.
On the other hand, others came to his defense, including a number of lawyers, other family members and even a judge for whom defendant had once work. They spoke of his gregarious nature, his courteousness and his professionalism in the courtroom. Additionally, three older children from a previous marriage offered tearful pleas to the court for leniency. They testified he was a man who always worked hard to provide for his family. Even defendant's victim expressed the wish that he might one day reunite with his grandchildren.
In criminal cases, when defense teams present evidence intended to portray a defendant in a better light, is what we refer to as "mitigating circumstances or evidence." These are elements meant to put into perspective for the jury the whole person, rather than simply the crime of which he or she was convicted.
The impact of this kind of evidence cannot be downplayed. In fact, 20 years was the mandatory minimum for the crimes of which defendant was convicted, meaning the judge could not go any lower. Both rape and kidnapping, under Florida law, are first-degree felonies.
She said the only reason she imposed that sentence, as opposed to the maximum of life, was because of the victim's statement that she hoped defendant could one day be restored with his children.
Of course ideally for any defendant is the possibility of dismissal, acquittal or at least a conviction on lesser charges.
The bottom line is a domestic violence arrest is serious enough, and the situation could quickly become even more grim. That's why it's imperative for any defendant facing these kind of charges to seek immediate legal counsel.
Call Fort Lauderdale Criminal Defense Attorney Richard Ansara at (954) 761-4011. Serving Broward, Miami-Dade and Palm Beach counties.
Additional Resources:
Broward bailiff escapes life sentence, gets 20 years for wife's rape, kidnapping, April 10, 2015, By Tonya Alanez, The Sun-Sentinel
More Blog Entries:
Williams v. Florida – Importance of Chain of Custody, April 4, 2015, Broward Criminal Defense Lawyer Blog