Marino Vigna was a dentist who primarily treated geriatric patients suffering from dementia in nursing homes throughout Southeast Florida.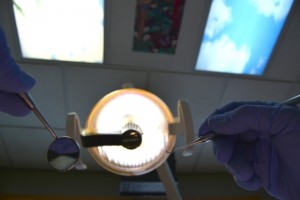 The Florida Attorney General's office launched an investigation back in 2012 when they received information indicating the dentist may have been engaging in fraudulent billing practices. There were allegations he was charging for services he never completed. In other cases, there were instance in which it was alleged patients had dental work completed when it wasn't necessary.
In search of billing records that might support these assertions, state investigators seized several office computers in June of this year. These included hard drivers and business records. But when they opened those records, they allegedly found something else entirely: Child pornography.
That's according to a search warrant obtained by The Sun-Sentinel. A number of files on Vigna's computer appear to show the girls, who are believed to be no older than 15, engaging in sexual acts and exposing themselves in a lewd manner. Those files were turned over to the Broward County Sheriff's Office for investigation by their sex crime unit.
Meanwhile, the state is still continuing with its simultaneous investigation. One example of the alleged fraud mentioned by investigators involved a 99-year-old man with dementia. He is reportedly unable to communicate and is on a liquid diet because he is unable to chew or swallow. Yet he was given a full set of teeth by Vigna.
However, what may work in Vigna's favor in this case is that many of the patients are now either deceased or unable to communicate with investigators. This doesn't mean he necessarily targeted them, but rather that they may have communicated a desire for certain services, and it may be difficult to prove otherwise in court without their input. Some couldn't even remember receiving any services from Vigna.
As a licensed dentist since 1992, he was reprimanded by the state Department of Health 15 years ago for improper construction of a dental bridge. He was also arrested two years ago for felony possession of a controlled substance without a prescription and DUI. However, the felony charge was dropped and Vigna pleaded no contest to misdemeanor DUI. His license was suspended for half a year, and his probation was just completed in February.
As of right this writing, Vigna hasn't officially been charged with any crime.
Fort Lauderdale criminal defense lawyers at The Law Offices of Richard Ansara know that in a case like this, defendants must secure a skilled, aggressive legal team familiar with criminal laws and also the necessary professional standards.
Although Medicare and Medicaid are federal programs, there can be state-level prosecutions for related fraud because the programs are overseen by the state.
With regard to the alleged images of child pornography, it should be noted that investigators have not identified the girls depicted in the images, which means they have not verified their ages. That could make a huge difference in terms of how this case unfolds. People mature at different stages, and it would not be unheard of for someone who is 18 to look more like 15.
Both of these cases will require a strong defense and decisive legal strategy.
Call Fort Lauderdale Criminal Defense Attorney Richard Ansara at (954) 761-4011. Serving Broward, Miami-Dade and Palm Beach counties.
Additional Resources:
Fraud investigation into dental office uncovers child porn, warrant says, Nov. 27, 2015, By Tonya Alanez, Sun Sentinel
More Blog Entries:
Florida Hit-and-Run Captured on Electronic Devices, Nov. 27, 2015, Fort Lauderdale Criminal Defense Attorney Blog