We hear so much these days not only about domestic violence in general, but also about instances of abuse allegedly carried out by sports stars – and football players in particular.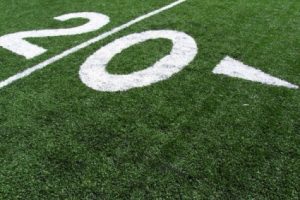 According to a USA Today database of NFL player arrests – 821 in total – dozens are for domestic violence, including Denver Broncos' Montee Ball in February (for allegedly striking his girlfriend in the face), Kansas City Chiefs' Justin Cox (twice arrested for domestic violence in eight months), San Francisco 49ers' Raymondo McDonald (allegedly assaulting a woman holding a baby), Detroit Lions' Rodney Austin (accused of pushing the mother of his child and damaging her phone), 49er Bruce Miller (accused of misdemeanor domestic violence battery).
Those incidents occurred just within the last 12 months. It was so bad in recent years that in December 2014, the NFL announced a new domestic violence policy that includes a more extensive list of prohibited conduct, counseling and services for victims and families, independent investigations and a baseline suspension of six games for any violations that involve assault, battery, domestic violence, dating violence, child abuse or sexual assault. 
Now, in South Florida, it is the wife of an NFL player has been accused of domestic violence.
Lynette Taylor, 42, is the wife of retired New York Giants Linebacker – and NFL Hall of Famer – Lawrence Taylor. According to The Sun Sentinel, Lynette was arrested shortly after 11 a.m. on a Thursday on charges of domestic violence battery and resisting arrest without violence. She is accused of striking her husband in the back of the head, ultimately resulting in a three-inch cut.
Reports are the pair were engaged in a verbal argument when Lynette, who had been seated in a large chair, reportedly launched an object across the room that struck her husband in the back of his head as he stood in the kitchen nearby. Police were called and when officers entered, Lynette is alleged to have refused to get up out of her chair and also uttered spontaneously, "Yeah, I threw it at him." As officers tried to advise her of her rights, she is alleged to have sworn at them and boasted that she beat him and "made him bleed." However, she later said she was only being sarcastic.
Lawrence Taylor told the court during his wife's first appearance he did not wish to press charges. However as our Fort Lauderdale criminal defense lawyers know, that is often not a factor in domestic violence cases. Of course, a cooperative victim can make a difference, but it's by no means the deciding factor. She told the judge the pair had an argument and then her husband lied about the facts of the case. At that point, her lawyer advised her to say no more.
The judge granted her $2,500 bond and ordered that she only have contact with her husband indirectly via third-party. Lynette was arrested for domestic violence previously in 1991, 2001 and 2008. However all of those cases were later dropped.
Lawrence Taylor, who was named the best defensive player in NFL history, led the Giants to two Superbowl victories – in 1981 and 1993. In 2011, he pleaded guilty to sexual misconduct with a 160-year-old girl.
Florida's domestic violence laws are codified in F.S. Chapter 741.
Call Fort Lauderdale Criminal Defense Attorney Richard Ansara at (954) 761-4011. Serving Broward, Miami-Dade and Palm Beach counties.
Additional Resources:
Wife of NFL Hall of Famer Lawrence Taylor accused of domestic violence in Pembroke Pines, June 3, 2016, By Wayne K. Roustan, Sun Sentinel
More Blog Entries:
ProPublica: Racial Disparity Alleged in Florida Criminal Risk Assessment Tools, June 1, 2016, Fort Lauderdale Domestic Violence Attorney Blog