People get coughs and colds all the time, and most don't think twice about taking some medicine and getting behind the wheel. Unfortunately, this can result in serious consequences if you are pulled over or involved in an accident and deemed to be "under the influence" of these substances.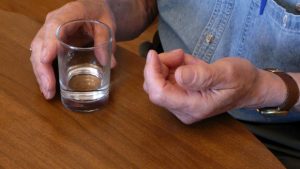 F.S. 316.193 prohibits motorists in Florida from "driving under the influence." Most people define that by the second provision of the statute, which indicates that a person may be considered impaired if his/ her breath-alcohol level exceeds 0.08 or more grams of alcohol per 210 liters of breath (or 0.08 or more grams of alcohol per 100 milliliters of blood). However, the first part of that law says that one can be arrested on this charge if they are under the influence of any chemical substance that results in impairing a person's normal faculties. This can, indeed, include cough and cold medicine. The penalties can be just as severe as if you chose to drink and drive.
As an example, take the recent case of Kranchick v. State, which was one such matter out of South Carolina. The facts giving rise to this case began in January 2002. It was about 3 p.m. and defendant lost control of her passenger vehicle while traveling eastbound on the interstate. According to court records, she swerved off the road, overcorrected and then slammed into the rear of a bobtail truck. That impact sent the truck spinning into the median, over the guardrail cables and into the path of a tractor trailer. The tractor trailer struck the smaller truck, causing the later to overturn onto its roof, killing the driver and severely and permanently injuring his passenger and the driver of the tractor-trailer.
It was later revealed that defendant driver had marijuana in her system, as well as "very significant amounts" of cough suppressant and antihistamine in her blood at the time of the crash. It should be stated that it's very difficult to prove marijuana intoxication based solely on chemical tests because the drug isn't processed the same way as alcohol. That means it can remain in one's system – even in large quantities – long after the psychoactive effects have worn off. With regard to cough and cold medicine, it is true that some people abuse these substances, most take them simply because they are sick.
Over-the-counter medications are required to warn users about the potential side effects, which include driving risks. Over-the-counter medicines that can impair a person's ability to drive include: Allergy medications, decongestants, cough syrups, motion sickness medications, ulcer medications, caffeine-containing medicines and more.
In the Kranchick case, a forensic toxicologist was called to testify regarding his analysis of defendant's urine and blood samples after the crash. Those samples reportedly suggested defendant had ingested large amounts of marijuana, cough suppressant and antihistamine prior to the crash. He theorized defendant had consumed marijuana in the previous eight hours before the crash. However, he said it was possible if she was a regular user that she could have ingested it up to 24 hours prior.
With regard to the cough and cold medicines, he testified there were 0.5 milligrams of antihistamine per liter in her blood and 1.3 milligrams of one type of cough suppressant and 0.24 milligrams of another type of cough suppressant. The expert witness said that normally, these types of cold medicines, when taken for therapeutic reasons, as seen in dosages that range from 0.01 milligrams to 0.05 milligrams. Here, they were approximately 20 to 30 times that amount, suggesting she was not necessarily taking them for therapeutic purposes. However, even if she was, prosecutors wouldn't need to show she intended to abuse them, but rather that the substances/combination had impaired her normal faculties.
A first trial in this case resulted in a mistrial. A second trial resulted in a conviction and sentence of 13 years for felony DUI causing death. Defendant, however, prevailed in a motion for post-conviction relief, after the court agreed with her the forensic toxicologist who testified for the state was not sufficiently qualified to testify about the effects of drugs or when they are consumed, and her legal counsel was insufficient for failing to challenge this testimony. However, prosecutors appealed and the state court of appeals reversed.
The court ruled it was an error of law because defendant failed to show her counsel failed to render reasonably effective assistance under prevailing professional norms.
Call Fort Lauderdale Criminal Defense Attorney Richard Ansara at (954) 761-4011. Serving Broward, Miami-Dade and Palm Beach counties.
Additional Resources:
Kranchick v. State, Oct. 26, 2016, South Carolina Court of Appeals
More Blog Entries:
Florida Supreme Court Rejects Dippolito Appeal, Case Set for Second Trial, Oct. 25, 2016, Fort Lauderdale DUI Defense Attorney Blog