He'd just turned 18 and, according to police, was celebrating this milestone with a joyride in a stolen BMW late last month. But in those predawn hours, the teen is accused of using his cell phone and not paying attention to the road, causing him to slam into a sport utility vehicle, killing the other driver, age 39.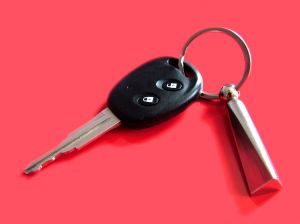 Now, that teenager is facing criminal charges that could lock him up for longer than he's been alive.
Prosecutors have charged Gregory Holt with a series of charges, including failure to stop at the scene of an accident involving death, failure to render aid, vehicular homicide and driving without a license involving death. The collision occurred Sept. 25th, and a Broward judge recently set bond for the teen in the amount of $175,000. Prosecutors had been asking that he be held for at least $250,000. A passenger with Holt, who was not injured in the crash, was the one who told investigators Holt was using his phone and being inattentive to the road, and may also have been smoking marijuana and drinking alcohol. The vehicle had allegedly been stolen from a home in Coconut Creek that had been rented through Airbnb for a party that had a turnout of 150 people (unbeknownst to the owner). 
At a bond hearing, the judge stated that if Holt is freed, he will be required to wear a GPS monitor, surrender his passport and refrain from imbibing in drugs or alcohol. A violation of any one of these requirements would result in him being incarcerated until trial.
Defendant had initially been jailed after the crash and freed on $1,000 bond. However, he was locked back up again when prosecutors filed the additional charges, including the vehicular homicide allegation. Although defendant had arranged through his attorney to turn himself in, he didn't do so when scheduled and was arrested by police on a warrant.
Investigators say defendant was speeding and texting on State Road 7 when he lost control of the vehicle and struck the other car. The impact was so forceful, it caused both vehicles to roll several times. Both vehicles were totaled. Holt was able to crawl out, and subsequently ran to a nearby apartment complex. He then borrowed a phone from someone, logged into his own Snapchat and Instagram accounts and then called for a taxi to pick him up. He never called for help for the other driver, police say.
First responders took the other driver to a nearby hospital, where he was declared dead. He'd reportedly been driving home from work at the time of the crash.
The owner of the BMW was reportedly out-of-town and had rented her home on Airbnb. She had reportedly called police to shut down the party even before the crash, and she had no idea her vehicle had been stolen.
At this point, Holt hasn't been charged with grand theft auto, although would seemingly be the least of his problems right now. Just looking at F.S. 316.062, which is the duty to give information and render aid, failure to do this in cases where an accident resulted in death is a first-degree felony. The minimum mandatory penalty for a conviction of this offense is four years. The maximum penalty is 30 years.
Meanwhile, F.S. 782.071 spells out the criteria for vehicular homicide, which is the killing of another person by operation of a motor vehicle in a reckless manner likely to cause death or great bodily harm to someone else. It's typically a second-degree felony, punishable by up to 15 years in prison. However, in cases where it involves a person who failed to give information and render aid, it is bumped up to a first-degree felony, punishable by up to 30 years in prison.
This is not the time for a defendant to be complacent about their criminal defense. A dogged, legal team can help protect your rights and fight for a favorable outcome.
Call Fort Lauderdale Criminal Defense Attorney Richard Ansara at (954) 761-4011. Serving Broward, Miami-Dade and Palm Beach counties.
Additional Resources:
Bond set at $175,000 for teen charged in deadly Coral Springs crash, Oct. 23, 2016, By Mike Clary, The Sun-Sentinel
More Blog Entries:
Florida Hit-and-Run Arrest of Community Leader, Oct. 29, 2016, Fort Lauderdale Criminal Defense Lawyer Blog