A Fort Lauderdale motorcyclist is facing nearly a dozen charges after police reportedly had to set up a sting just to catch him. Officers had reportedly spotted the 19-year-old morning after morning on a black Honda bike, weaving through morning rush hour traffic, speeding, pulling wheelies and running red lights.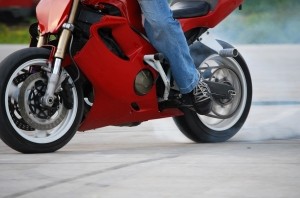 The officers allege this same man, always wearing a GoPro video camera strapped to his helmet, had three times shook his head no and continued on when officers tried to pull him over. On the third such instance, police allege the motorcyclist refused to stop, ran through a red light and waved to the officer, as if inviting law enforcement to chase him down.
But at that point, police couldn't follow him through the crush of traffic. Department safety policy prohibits officers from chasing down suspects for traffic offenses or minor misdemeanors. Still, police were eager to stop him. So they set up a sting.
According to The Sun Sentinel, the biker, later identified as 19-year-old Cody Joseph Mangos, an employee at a local motorcycle shop, was the target of a so-called "choke point." Police initiated this action, citing the "near daily… willful and wanton disregard" for others in traffic.
Up until then, officers were unable to identify Mangos because he allegedly was using a a license tag that was folded up underneath the rear of the seat so that law enforcement was unable to read it.
With this "choke point" plan, traffic signals were manipulated to flash and halt drivers on West Cypress Creek Road. When the motorcyclist approached, as they anticipated he would, they moved in to pull him over. Three officers in cruisers and a traffic aide on foot all approached. Instead of staying, he allegedly jumped the median and drove back the other direction, past a patrol car with flashing lights and siren.
A helicopter nearby followed the motorcyclist for four miles away to Southwest Eighth Street in North Lauderdale.
It was at that point officers finally apprehended him and identified him. According to the Sun Sentinel, Mangos had a suspended license. Additionally, the bike was never registered and the tag on the vehicle didn't belong to any vehicle.
Mangos was arrested on the spot. He was charged with:
These offenses are serious and have the potential to place this young man not just in jail but in prison. Consultation with an experienced criminal defense attorney is essential when facing serious traffic offense charges.
Call Fort Lauderdale Criminal Defense Attorney Richard Ansara at (954) 761-4011. Serving Broward, Miami-Dade and Palm Beach counties.
Additional Resources:
GoPro-wearing motorcyclist nodded 'no' when ordered by cops to stop, arrested, police say, March 14, 2016, By Linda Trischitta, The Sun-Sentinel
More Blog Entries:
Florida Mom Turns in Teen Son After Police Chase, March 11, 2016, Fort Lauderdale Criminal Defense Attorney Blog