Florida has always been a boater's paradise, though many have increasingly been taking to the water to get a dose of Vitamin Sea while still following social distancing rules. But don't expect law enforcement to be lenient on boating under the influence violations just because we're in the middle of a pandemic.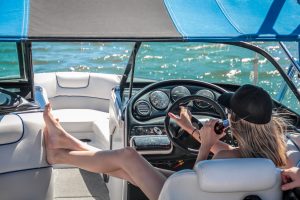 Boating and alcohol are a potentially deadly mix that can carry severe penalties in South Florida – even if you don't crash and no one is hurt.
Recently in Naples, NBC-2 reported the Florida Fish & Wildlife Conservation Commission arrested a man for boating under the influence on July 4th. There were reportedly more than a dozen people on board the vessel at the time. The officer was patrolling the waters around Keewaydin Island when he noticed not only the boat, but the fact that two women, who were impaired, were in the water and trying to get back onto the vessel but could not due to the strong current. The officer took the women aboard his boat and then pulled up alongside the defendant's vessel. The operator "appeared to be heavily intoxicated," and the vessel appeared to be overloaded. The operator refused a breathalyzer test, but was nonetheless arrested for BUI.
Florida law enforcement authorities frequently patrol the state's rivers, lakes, coastline and ponds – particularly during holiday weekends. Anyone who is arrested on boating under the influence charges should seek immediate legal counsel from a local South Florida criminal defense lawyer.
Florida Boating Under the Influence Laws
Similar to driving under the influence, boating under the influence of alcohol or drugs is illegal per
Florida Statute 327.35
. A person who is drunk or high while operating a boat will have slower reaction times, lower concentration levels and overall impaired judgment.
Although this is a misdemeanor offense, boating under the influence can still carry significant penalties that can leave you with a permanent criminal record.
Boating under the influence is defined by statute as operating a boat or vessel while either:
Impaired by drugs, alcohol or other substances (or some combination of them to the extent the person is unable to safely operate the watercraft);
Having a blood-alcohol concentration of 0.08 (grams contained in 100 milliliters of blood or in 210 liters of breath).
Prosecutors will need to prove the key elements of the offense beyond a reasonable doubt in order to secure a conviction.
Penalties for Boating Under the Influence in Florida
It's impossible to say exactly what the outcome of any criminal case will be, as a great deal depends not only on the strength of the evidence and the facts of the case, but also the defendant's prior criminal history. If you have a conviction against you from another state, that could be used against you in a Florida BUI case. The possible maximum penalties for boating under the influence in Florida are on par with those convicted of driving under the influence. Those include:
First-time offenders: Up to 6 months in jail, a fine between $500 and $1,000, probation of up to one year and a maximum of 50 hours of community service.
Second-time offenders: Up to 9 months in jail (with a minimum of 10 days served, at least 48 hours of which must be consecutive, if the defendant's prior conviction occurred within the last 5 years), a fine of between $1,000 and $2,000, up to one year of probation and 50 hours of community service.
Third-time offenders: Up to 12 months in jail (if the prior conviction occurred 10 years or more before this latest charge) and a fine of between $2,000 and $5,000. However, if your prior conviction occurred within the last decade, the charge is increased to a third-degree felony – which means you're facing up to five years in prison, plus a $5,000 fine. In the latter case, you can expect to serve at least 30 days behind bars, with 48 hours of that served consecutively.
Fourth and subsequent offenders: You're facing a third-degree felony, no matter how long ago it was since your last conviction.
There are also several circumstances under which you may face enhanced penalties for boating under the influence in Florida. Several factors can aggravate the charges against you – namely, a crash.
If you cause a Florida boat crash while under the influence and it results in injury to another or property damage, you're automatically facing at least a first-degree misdemeanor, which carries up to 1 year in jail. If the person who was hurt suffered serious injuries, then you'll be charged with a third-degree felony, the maximum penalty for which is five years in prison. These are in addition to fines.
If someone dies as a result of a boating accident that is found to have resulted from your operating the vessel under the influence, the charge is likely to be BUI manslaughter, which is a second-degree felony and carries a maximum prison sentence of 15 years. Fail to stop and render aid in a Florida boat crash you caused while drunk (regardless of whether someone died), and it's a first-degree felony, which carries a maximum prison sentence of 30 years.
You can also face more severe penalties if your BAC exceeds 0.15 percent OR if there was a child onboard at the time.
Defenses in Florida Boating Under the Influence Cases
There are a number of potential defenses in boating under the influence cases in Florida, just as there are in DUI cases. It may come down to how strong the case is, how evidence was obtained, the veracity of test results and whether the observations made by law enforcement officers may be questionable.
Consult with an experienced Fort Lauderdale defense lawyer to determine the best course of action in your case.
Call Fort Lauderdale Criminal Defense Attorney Richard Ansara at (954) 761-4011. Serving Broward, Miami-Dade and Palm Beach counties.
Additional Resources:
Naples man arrested for operating boat while drunk with large group on board, July 5, 2020, NBC-2
More Blog Entries:
Fort Lauderdale Defense Lawyers: Theft Charges Require Proof of Intent, June 1, 2020, Fort Lauderdale Defense Lawyers Blog