A bailiff for the Broward County Sheriff's Office was taken into custody by his own agency after prosecutors say the 33-year-old civilian employee freely spent money he knew was stolen by his now ex-wife.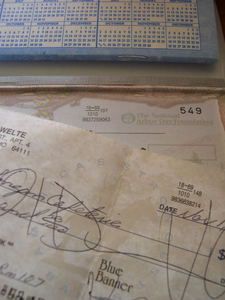 His former wife, who worked at a perfume store in Pembroke Pines as a clerk,was convicted of grand theft charges after authorities accused her of writing 119 checks totaling more than $405,000. She would later tell authorities her husband became aware of the thefts after the third or fourth transaction. She co-mingled the checks with their paychecks in their joint personal and business account.She said her husband told her simply to "Be careful."
Last month, she was sentenced to five years in prison. And just a few days ago, she and her husband finalized their divorce.
But it's not over for Steve Palacios, who allegedly spent the money on:
–Furniture
–A Cadillac
–Rent
–Restaurant visits
–Personal grooming
–Tires and rims for his truck ($6,000 total)
–Truck loan ($5,900)
–Lifetime fishing license ($1,000)
–Medical bills for a parent – ($4,000)
–Three guns ($1,310)
–Business expenses ($14,000)

A defense lawyer for Palacio is quick to note there is no evidence at this point that he was aware at all that the money acquired by his former wife was not acquired lawfully. His legal team has begun a forensic accounting investigation to determine how much was actually from the stolen checks, and how much may have been from him and his wife's legitimate earnings.
As our Fort Lauderdale theft defense attorneys can explain, the charge defendant is facing is dealing in stolen property. F.S. 812.019 indicates that any person who traffics in – or endeavors to traffic in – property or money he or she knows or should know was stolen is guilty of a second-degree felony, punishable by up to 15 years in prison.
Key here for prosecutors will be presenting proof Palacios knew or should have known the origins of the money. It does seem at this point the only concrete evidence defendant may have been aware of the source was testimony from a woman who just divorced him. That means they will have to show he "should have known." That will depend largely on the level of involvement he had in the couple's finances, including the business. It is possible he may argue she handled the books, and he may have thought their shared drug testing business was simply doing very well.
According to previous reports of his wife's case, the business owner first became suspicious after finding a $6,600 check written to "cash." It was his practice to only write checks to specific vendors. He pressed his staff and Palacios wife, Isabella Maria, came forward and paid back the money and was fired.
That might have been the end of it, but an internal audit revealed there was actually much more missing than that. In fact, an estimated $400,000 had been stolen. He involved the authorities, who spent a year investigating. They learned she had allegedly manipulated the company's software system in order to hide the thefts.
Call Fort Lauderdale Criminal Defense Attorney Richard Ansara at (954) 761-4011. Serving Broward, Miami-Dade and Palm Beach counties.
Additional Resources:
Bailiff charged, accused of spending money stolen by then wife, Oct. 16, 2015, By Linda Trischitta, Sun-Sentinel
More Blog Entries:
Florida Doctor Acquitted of Pill Mill Murder, Guilty of Drug Sale, Sept. 18, 2015, Fort Lauderdale Theft Crime Defense Lawyer Blog