The driver who rear-ended an Oakland Park food truck in September, causing fatal injuries to one of the passengers, is believed to have been under the influence of alcohol, according to investigating troopers with the Florida Highway Patrol.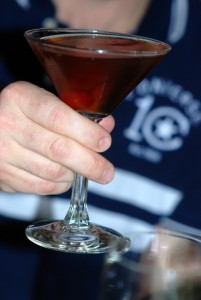 According to a newly-released search warrant obtained by The Sun-Sentinel, driver Joseph Decaro Jr., co-owner of a Bonefish grill in Plantation, told the trooper he was taste-testing holiday martinis with the bartenders just an hour before the crash. Decaro, who has not been arrested or charged with any crime as of this writing, allegedly told the trooper he had left work about a half hour prior to the crash and had nothing to drink a half hour before he left the restaurant.
Authorities say Decaro was operating an F-150 truck when he rear-ended a food truck in which 54-year-old Patsy Jane D'souza was riding. She wasn't wearing a seat belt and was ejected onto the highway, where she died. The 48-year-old food truck driver suffered minor injuries.
Decaro, 45, of Miami, reportedly told the investigating troopers on scene that he and his staff were instructing bartenders on how to make certain martini drinks to ensure they were properly mixed. As he described it, he consumed, "A sip of this one, a sip of that one. Make another one, sip of this one, sip of that one."
It's important for our Fort Lauderdale DUI defense lawyers to stop here and point out that, contrary to what many people think, it's not illegal to drink alcohol before getting behind the wheel of a car. What is illegal is to drive impaired or intoxicated. To define intoxication, we look to F.S. 316.193.
The statute says that a driver can be deemed intoxicated by one of three methods:
The person has a blood-alcohol level of 0.08 or more grams of alcohol per 100 milliliters of blood;
The person has a breath-alcohol level of 0.08 or more grams of alcohol per 210 liters of breath;
The person is "under the influence" of either alcohol or any chemical substance (as set forth in F.S. 877.111) or any substance controlled under F.S. chapter 893, that has affected the person to the degree his or her normal faculties are impaired.
Authorities in this case are considering DUI manslaughter charges against Decaro. If convicted on that charge, he would face a minimum mandatory four years in prison. However, if authorities could not prove he was intoxicated, he might simply be cited for some offense like careless driving, which is a moving violation.
An attorney for Decaro told the Sun-Sentinel his client had cooperated fully with investigators, remaining on the scene after the crash and voluntarily providing a blood test sample. Troopers are awaiting the results of those tests.
If it turns out that Decaro's blood-alcohol level was less than 0.08, he could still technically be charged with DUI manslaughter – but it would make the prosecution's case a whole lot harder. A trooper did assert that Decaro's eyes were glassy and bloodshot and that he smelled of alcohol when he spoke. Technically, one can be impaired with having a 0.08 blood-alcohol level, but that determination would be made by a jury weighing all relevant evidence. The trooper's observation would simply be one part of that.
A case like this, which has profound implications for all involved, should only be handled by a defense team with extensive experience in Florida DUI law.
Call Fort Lauderdale Criminal Defense Attorney Richard Ansara at (954) 761-4011. Serving Broward, Miami-Dade and Palm Beach counties.
Additional Resources:
Drunk driving suspected in I-75 crash that killed woman, warrant says, Nov. 24, 2015, By Tonya Alanez, Sun Sentinel
More Blog Entries:
Federal Judge Sentences Former Army Recruiter to 12 Years for Illegal Sexual Contact With Teens, Dec. 14, 2015, Fort Lauderdale DUI Lawyer Blog