A 22-year-old suspected burglar was found deceased in a Brevard County pond (which is more like a lake) near where he is believed to have hid as police with K-9 units pursued him ten days earlier. The cause of death? An 11-foot alligator, which was aggressively guarding the man's corpse as authorities approached.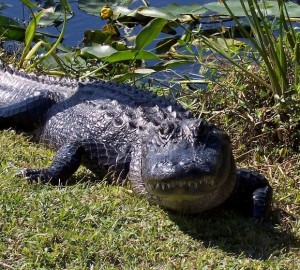 According to Bay 9 News, Matthew Riggins had notified his girlfriend that he and another man were in the Barefoot Bay community with the intent to commit house burglaries in the middle of the night on Nov. 12 and Nov. 13th. But a resident called the Brevard County Sheriff's Office around 2 a.m. to report that two men wearing all black were walking behind houses in the neighborhood.
Authorities responded to the scene, but the two men took off on food. Deputies deployed a helicopter and a K-9 unit, but they couldn't find the men. Meanwhile, according to the Orlando Sentinel, Riggins called his girlfriend to report he was hiding because the authorities were after him. He indicated he would probably be laying low for a few days. That was the last anyone spoke to him. Unfortunately, it seems he was laying low near a very large and aggressive alligator.
One nearby resident would later tell authorities that he heard yelling out near the pond that night, but he couldn't quite make out where it was coming from, and it didn't last long.
His parents reported him missing the following day.
But it wasn't until 10 days later that residents alerted authorities to what appeared to be a body floating in the water nearby. A sheriff's office dive team, while recovering the body, encountered the 11-foot beast, which was reportedly behaving aggressively. As they pulled the body from the water, they discovered injuries that were "consistent with" an attack by an alligator. His lower extremities were gone, and he was also missing an arm.
Trappers were called to catch and euthanize the alligator. In the course of a necropsy on the animal, investigators discovered there were some remains inside the body. Authorities suspect Riggins died from drowning. The evidence suggests he was dragged underwater by the animal, drowned and then eaten. Bites were discovered on his legs and body.
As one resident commented, "He hid in the wrong place."
A two-sentence obituary was published for Riggins, who along with his accomplice is believed to have been involved in a number of burglaries to homes belonging to snowbirds. Many returned to their homes for winter to discover the places have been looted.
Local authorities say this incident is a first of its kind for many.
The man who is suspected to have been an accomplice with Riggins has not been named by authorities, hasn't been cooperating in the investigation and reportedly has yet to be charged with any crime.
In Florida, F.S. 810.02 outlines the definitions and penalties for burglary. It is the entering or remaining in a structure or conveyance with the intent to commit a crime therein (usually theft). Any theft that occurred on site would be charged separately, in accordance with theft statutes. Burglary can be charged as a first-degree felony, punishable by up to life in prison, if during the course of the act, the offender commits assault or battery on someone, is armed or causes significant damage to the property. In other cases, where the occupant is present, it is generally a second-degree felony. If no one is home and the suspect is not armed, it's usually a third-degree felony, punishable by up to five years in prison.
Individuals arrested for burglary in Florida should contact an experienced criminal defense attorney.
Call Fort Lauderdale Criminal Defense Attorney Richard Ansara at (954) 761-4011. Serving Broward, Miami-Dade and Palm Beach counties.
Additional Resources:
Florida 'burglar' is eaten by an alligator while hiding from police, Dec. 7, 2015, By Chris Spargo, Daily Mail
More Blog Entries:
Florida Judge Sentences Probation Violator to 60 Years in Prison, Dec. 9, 2015, Fort Lauderdale Burglary Defense Lawyer Blog