Millions of people flock to Florida and its surrounding waters for an escape from the daily grind. But for some, the "vacation mindset" leads to lowered inhibitions and the assumption that consequences won't be forthcoming.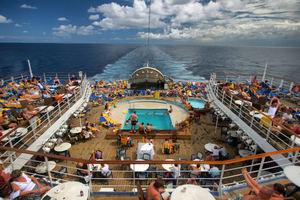 However, as one Ohio man learned recently, one doesn't evade the law simply because a crime occurs on vacation.
The 30-year-old was arrested at a Florida port, shortly after the cruise ship on which he was a passenger docked. Authorities alleged he had battered and threatened a 13-year-old boy who made sexual overtures toward his niece. He was charged with child abuse, assault, battery and false imprisonment of a child.

According to news reports, the 13-year-old was spending time with the niece and other friends on the ship when he asked if she would be willing to give him her virginity in exchange for a cheap key chain.
The girl balked and left. She later told her father and uncle what had happened. The girl's father later found the boy and made him apologize to his daughter.
However, the uncle took it further.
Police allege he found the boy, shouted at him for several minutes and then forced him up against a wall and would not let go.
He also held the boy's arms over his shoulders and would not allow him to leave. The uncle then allegedly tore off his own shirt, as if he was posturing for a fistfight. He then grabbed the young teen by his throat and forced his face into a nearby couch. He proceeded to remove his own pants and demanded the teen take off his own too, which he did. At all relevant times, both the uncle and the teen kept their underwear on.
The man then pushed the boy's face into a couch repeatedly. Finally, he stopped, put his pants back on and left.
The boy's parents then contacted ship security, who reviewed video surveillance that confirmed his account of what had happened. They then detained the older man and handed him over to authorities on shore once the boat docked.
Following his arrest, a district court judge ordered bail set at $17,000. Although he stated he would allow the man to return to Ohio so that he wouldn't lose his job, he noted he would have to return for certain scheduled court appearances. He warned that if defendant did not come back "the easy way," authorities would pursue him to bring him back "the hard way."
This is possible via Article IV, Section II, Clause 2 of the U.S. Constitution, also known as the Extradition Clause, It requires states, upon demand of another state, to deliver a fugitive from justice who has committed treason, a felony or other crime from which fugitive has fled.
When you are accused of a crime while on vacation, it can be a confusing time because the laws and procedures aren't necessarily the same as those applicable back home. In these situations, it's imperative to hire an experienced criminal defense lawyer who knows well the local and state laws and court systems. In many cases, we can appear on your behalf so that you are not constantly having to return for minor hearings. You can also trust us to thoroughly analyze all available evidence, search for additional evidence that may help your case and engage in meaningful negotiation with prosecutors on your behalf.
Call Fort Lauderdale Criminal Defense Attorney Richard Ansara at (954) 761-4011. Serving Broward, Miami-Dade and Palm Beach counties.
Additional Resources:
Man beats boy, 13, aboard cruise ship over boy's remark to girl, detectives say, Aug. 17, 2015, By Wayne K. Roustan, Sun Sentinel
More Blog Entries:
Cohen v. Florida – Phone Call Gets Man 25 Years Prison, Aug. 6, 2015, Fort Lauderdale Violent Crime Defense Attorney Blog