Many Americans hold their Second Amendment rights dear. But if you're convicted of a Florida domestic violence offense OR you have a final domestic violence/stalking injunction against you, the right to bear arms goes out the window. In fact, buying or possessing firearms or ammunition post conviction or while you are subject to a Florida domestic violence injunction can result in serious penalties – including years behind bars. In some cases, federal authorities may get involved – even if the underlying injunction or conviction was issued at the state level. It is imperative if you're accused of a firearms violation while subject to an injunction that you seek immediate legal counsel from a qualified defense attorney.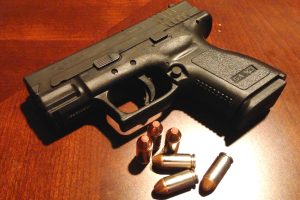 Case-in-point: A U.S. District Court judge recently sentenced a man to more than 3 years federal prison for possessing firearms while subject to a Florida domestic violence injunction. According to the U.S. Attorney's Office for the Middle District of Florida, the 44-year-old defendant was subject to a domestic violence injunction issued by a state judge in Jacksonville. As part of that injunction, he was forbidden from purchasing or possessing any firearms or ammunition while the order was in effect. This directive was expressly communicated to him in the injunction, which noted failure to abide this rule was a violation of both state and federal laws.
In the spring of 2020, the defendant reportedly signed an affidavit indicating he'd turned over all firearms to deputies with the Jacksonville County Sheriff's Office. But then, federal authorities were tipped off that he had not actually turned over all firearms in his possession. A special agent with the U.S. Bureau of Alcohol, Tobacco, Firearms, and Explosives (ATF) began investigating, and noticed the defendant also had several firearm silencers that were nationally registered, but not surrendered to the sheriff's office along with his other firearms and ammunition. The agent obtained a search warrant, which was executed in November 2021. At his residence, agents reportedly found seven guns (rifles, pistols, revolvers), silencers, and thousands of rounds of ammunition. Some of the guns and silencers were not properly registered.
His guilty plea for possession of firearms while subject to a domestic violence injunction was met with a 37-month prison sentence.
Florida & Federal Laws Against Firearm Possession in Violation of Domestic Violence Injunction