A woman from Hallandale Beach has accepted a plea deal stemming from charges filed in 2013 after she allegedly operated a boat under the influence and slammed into a bridge, killing her boyfriend.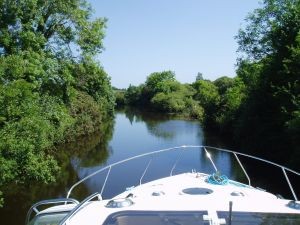 The Sun-Sentinel reports Marcella Hewett, 52, pleaded no contest to charges of manslaughter while boating under the influence of alcohol and tampering with evidence. For this, she will serve seven years in prison. Prosecutors later said the fact that she had no prior criminal record likely meant the most she would serve if convicted at trial was between 10 and 13 years.
Her defense lawyers apparently believed the evidence was strong enough to instead opt for negotiation of a plea bargain.
Authorities reported that it took Hewett more than a half hour after crashing into a piling under Old Griffin Bridge to call 911. Throughout this time, the 58-year-old victim, David Duda was reportedly unconscious in the boat. Paramedics reportedly discovered him in the front part of the 18-foot vessel, and declared him dead at the scene.
Investigators concluded there had been numerous open and empty containers of veer in the boat when it crashed. Witnesses would later come forward to say they had seen her throwing beer cans off the side of the boat. Officials with the Florida Fish & Wildlife Conservation Commission did later say they found some open containers of alcohol in the vessel.
Soon after the crash, she docked the boat along a seawall behind a residence on Northwest 14th Avenue. As it turned out, that residence was equipped with a home surveillance camera. There, she was seen on her cellphone, walking around the vessel. However, authorities determined she was not on the phone with emergency officials at that time.
Prosecutors would later say Hewett was "manipulating" the vessel at that time as well, though the angle of the camera makes it difficult to ascertain exactly what she was doing at that point.
The 58-year-old victim was a New York native who had lived in South Florida for three decades and operated an air conditioning business here.
Under Florida law, boating under the influence – and similarly, BUI manslaughter – is treated very similarly to driving a car drunk.
F.S. 327.35 is Florida's boating under the influence law. As our Fort Lauderdale BUI defense lawyers can explain, a person is guilty of the offense when they operate a marine vessel while either impaired by alcohol or drugs or with a blood-alcohol level in excess of 0.08.
If a person causes an accident while boating under the influence and cause property damage, it's a first-degree misdemeanor, punishable by up to a year in jail. If serious injuries are reported, it's upped to a third-degree felony, punishable by up to five years in prison.
If an individual causes a boating accident that results in someone else's death, they can be charged with BUI manslaughter, which, like DUI manslaughter, is a second-degree felony, punishable by up to 15 years in prison. If the operator flees the scene or fails to render aid, it can be considered a first-degree felony, punishable by up to 30 years in prison.
Officials did not feel there was enough evidence in this case to charge defendant with "failure to render aid," despite the delay in calling for help.
If you have been arrested for BUI in Florida, contact an experienced defense lawyer to protect your rights and represent your best interests.
Call Fort Lauderdale Criminal Defense Attorney Richard Ansara at (954) 761-4011. Serving Broward, Miami-Dade and Palm Beach counties.
Additional Resources:
Woman reaches plea deal in fatal drunk boating accident, April 4, 2016, By Rafael Olmeda, Sun Sentinel
More Blog Entries:
Florida Mom Turns Teen Son In After Chase, March 11, 2016, BUI Defense Lawyer Blog