Florida voters overwhelmingly agreed that medical marijuana should be legal in the Sunshine State – but don't expect cultivation and possession arrests to drop off any time soon.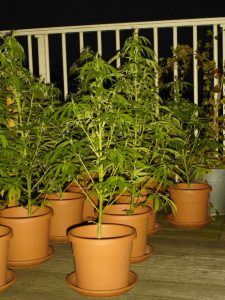 Amendment 2, in favor of access to medicinal cannabis for those with certain serious illnesses, received a groundswell of support from the electorate. But it's also a very short piece of legislation, which means there is a significant amount of power in the hands of the Florida Department of Health to make rules for medical marijuana treatment centers. There is still the need to hammer out procedures for licensing, registration, records, testing, labeling, inspection, security and revocation of registration. Further, a number of cities in South Florida have temporarily banned marijuana dispensaries and treatment centers, arguing officials need time to weigh the effects on the community and set zoning regulations.
In the meantime, don't expect any breaks when it comes to the prosecution of marijuana-related crimes. Just recently, according to The Sun-Sentinel, a 40-year-old in Deerfield Beach was arrested for growing some 200 marijuana plants inside two residences in the city. Authorities first searched a home on Southeast Eleventh Street and discovered 25 marijuana plants growing in two separate bedrooms. He was arrested at that location. Investigators then went to a residence on Southeast Tenth Street, also owned by defendant, and there discovered an additional 169 marijuana plants, plus 12,000 grams of packaged cannabis and a jar of cannabis oil. He was arrested on charges of manufacturing/ producing cannabis and suspicion of traffic marijuana greater than 25 pounds less than 2,000 pounds.
Defendant reportedly came to officers' attention when a patrol officer spotted a set of keys outside the front door of a home and knocked to caution the resident. As she approached, she noticed the strong and distinct smell of marijuana.
As in any drug-related arrest, penalties often come down to the amount of the plant in question.
In Florida, F.S. 893.13(1)(a) covers the growing/ cultivation/ manufacture or production of marijuana. It's unlawful according to this statute to manufacture or possess with intent to manufacture a controlled substance – and that includes cannabis. Any person who violates this provision commits a third-degree felony, punishable by up to five years in prison and a $5,000 fine. It could also be charged as a second-degree felony – punishable by up to 15 years in prison – where the accused is found in actual or constructive possession of a grow house where there were 25 or more plants present. In cases where minors are present in the home, the crime could be increased to a first-degree felony, punishable by up to 30 years in prison.
Over the last 15 years, law enforcement agencies across Florida – and in South Florida in particular – have aggressively cracked down on marijuana cultivation and manufacturing, despite growing public support for legalization. We know have a majority of states in this country where marijuana is legal as medicine and a handful that allow recreational use and sales. Even so, the drug remains a Schedule I narcotic and illegal under federal law. This patchwork of marijuana laws across the country leads to a great deal of confusion.
If you have been arrested for marijuana in Fort Lauderdale, our experienced criminal defense lawyers can help.
Call Fort Lauderdale Criminal Defense Attorney Richard Ansara at (954) 761-4011. Serving Broward, Miami-Dade and Palm Beach counties.
Additional Resources:Two Deerfield Beach homes used to grow 194 marijuana plants, police say, Nov. 18, 2016, By Linda Trischitta, The Sun-Sentinel
More Blog Entries:
Man Who Won $23K Lawsuit Against Florida Sheriff Arrested for Drugs, Nov. 15, 2016, Fort Lauderdale Marijuana Arrest Lawyer Blog