Federal authorities recently made dozens of arrests in Broward County for alleged trafficking in drugs and guns. In all, officials filed federal charges against 29 defendants in 23 separate cases, which ranged from narcotics trafficking conspiracy, narcotics trafficking and firearms-related offenses. That's according the U.S. Department of Justice's Bureau of Alcohol, Tobacco, Firearms and Explosives, which released a statement alleging defendants sold nearly 300 firearms to undercover officers. Among those weapons: AKs, AR-15s, revolvers, pistols, sniper rifles and short barrel rifles. Defendants are also accused of sales of heroin, cocaine, flakka, marijuana and oxycodone to undercover agents.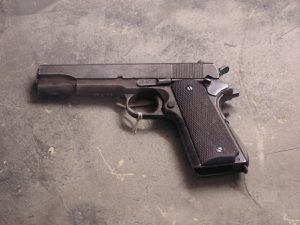 The release indicates federal authorities worked closely with local officials in Pompano Beach to conduct undercover surveillance and gather intelligence. DEA Special Agent in Charge Adolphus P. Wright said this case is illustrative of the fact that crime is often inter-related, and where there are drugs, there are often illegally possession/ dealing of firearms and other offenses.
Our Fort Lauderdale criminal defense attorneys know that many defendants in these cases are facing numerous federal charges of varying seriousness. These kinds of cases, both because of their complexity and the potential for decades-long prison sentences, necessitate the assistance of an experienced defense lawyer. 
The stakes are even higher for the defendants in this case because, as The Miami Herald noted, the 25 individuals who have so far been arrested (the other four have warrants), they collectively have a record of 400 prior arrests and 70 convictions. Prior offenses can significantly up the ante in any criminal case, particularly in the penalty phase. This is true even with the historic repeal of Florida's "10-20-Life" law earlier this year. The law for years set mandatory minimum penalties for crimes involving guns. Gov. Rick Scott in February signed Florida Senate Bill 228 repealing the measure, calling it too rigid. Under the law, judges had no choice but to hand down a 10-year sentence if someone displayed a gun, 20-year sentence if someone fired a gun (even if it was only a warning shot) and a 25-year or more sentence if another person was hurt. There used to be no exceptions, but now there are. Some 15,000 people were sentenced under the state law.
Of course, while judges have greater discretion now that does not mean defendants in weapons offense cases should expect leniency. This is especially true of those facing charges under federal law, which has not changed in any significant way in recent years. There are four basic laws under which most federal firearms charges will fall:
Of the 285 total guns that were seized as part of this most recent crackdown, 35 had been reported stolen.
What may also result in harsher penalties in these cases is the fact that those arrested are believe to have carried out their offenses in furtherance of their criminal organization/ gang. Specifically, all are members of the Cypress Boys and/or Doom City, both of which are primarily based in Pompano Beach. F.S. 775.13(5)(b) holds that any felon found to have committed an offense for the purposes of benefiting, promoting or furthering the interest of a criminal gang, he or she will be charged with a third-degree felony. Additionally, F.S. 874.04 holds that individuals convicted of committing crimes in the interest of a gang may have their underlying offense enhanced to the next level up. For example, a third-degree felony will become a second-degree felony – with maximum penalties increased from 5 years to 15.
A skilled legal defense is imperative.
Call Fort Lauderdale Criminal Defense Attorney Richard Ansara at (954) 761-4011. Serving Broward, Miami-Dade and Palm Beach counties.
Additional Resources:
Feds bust two dozen on gun and drug offenses, Nov. 9, 2016, By Jay Weaver, The Miami Herald
More Blog Entries:
Man Who Won $23K Lawsuit Against Florida Sheriff Arrested for Drugs, Nov. 15, 2016, Broward Criminal Defense Attorney Blog