An argument between two Pompano Beach roommates resulted in a violent act that left one man in critical condition with multiple stab wounds to the neck and another facing charges of attempted murder.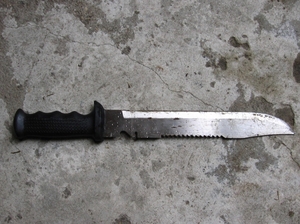 Police haven't indicated what the source of the conflict was between alleged victim Mark Gougeon, 57, and alleged assailant, Brandon Wilson, 25. Both men were identified per a Broward County Sheriff's report released to the South Florida Sun-Sentinel.
According to news reports of the incident, deputies responded to a call regarding a Pompano Beach stabbing on Sept. 29th. Near the 400 block of NW 10th Avenue, authorities found a man on an outside bench, suffering from a major loss of blood from his neck. The victim was reportedly still conscious and breathing, and well enough to inform investigators that Wilson, his roommate, grabbed him from behind and attempted to cut his throat.

The injured man sustained stabbed wounds on multiple areas of his body. He told authorities that he fell into a bathtub and that, in an effort to save his life, he "played dead." When his alleged attacker then exited the room and became distracted. Gougeon then says he fled out the front door before collapsing onto a nearby city bench.
Gougeon told first responders the alleged attacker then locked himself inside the home they shared. Deputies described it as a "barricade situation."
When reporters arrived on site, a woman's voice was heard over a loudspeaker, urging the defendant to exit the house. She tried to coax him to walk outside with his hands up, saying that whatever happened, "We can work it out!"
Two SWAT team negotiators, decked in bullet proof vests, went inside the police barricade for a brief time before tear gas was fired into the house. Moments later, the SWAT team entered with a K-9 unit. However, it was revealed at that point the suspect had already fled the premises.
Police were still looking for the suspect as of Wednesday.
If and when the suspect is apprehended, he is likely to face a host of felony charges. As our Fort Lauderdale criminal defense attorneys can explain, a situation like this could result in charges such as aggravated battery and attempted murder.
The criteria for aggravated battery is spelled out in FL Statute 784.045. The law describes the crime of aggravated battery as a batter in which a person either intentionally or knowingly inflicts great bodily harm, permanent disability or permanent disfigurement OR uses a deadly weapon on a victim OR commits battery on a person whom defendant knew or should have known was pregnant at the time of the incident.
It's considered a second-degree felony, punishable by up to 15 years in prison.
Then there is attempted felony murder, as codified in FL Statute 782.051. This is a situation in which a person commits, aids or abets an intentional act of a felony that could – but does not – result in the death of another person. It's a first-degree felony, and it's punishable by up to life in prison.
When charges are this serious, it's imperative for defendants to seek legal counsel from an experienced, reputable law firm with a track record of success.
Call Fort Lauderdale Criminal Defense Attorney Richard Ansara at (954) 761-4011. Serving Broward, Miami-Dade and Palm Beach counties.
Additional Resources:
Deputies search for man suspected of stabbing housemate, Sept. 29, 2015, By Linda Trischitta and Joe Cavertta, South Florida Sun-Sentinel
More Blog Entries:
Florida Manslaughter Arrest for Fatal Shove, Sept. 29, 2015, Broward County Criminal Defense Lawyer Blog