Prosecutors allege a Broward sheriff's deputy was not entitled to legal immunity under the so-called "stand your ground" law. The state is appealing the ruling last year by Broward Circuit Judge Michael Usan, who ruled the 38-year-old deputy should have immunity from prosecution. The deputy, Peter Peraza, is the first on-duty officer of the law to be charged with a firearm death of a civilian in in Florida in 37 years. As The Sun-Sentinel reported, the deputy faced charges of manslaughter for the 2013 fatal shooting.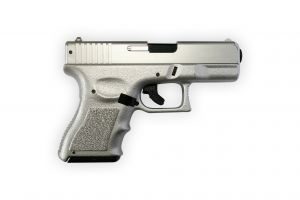 The incident happened in Oakland Park, where the 33-year-old decedent was walking through an apartment complex past a pool with children and parents present. He reportedly had a realistic-looking rifle on his back and reportedly ignored Peraza's orders to set it down. The deputy told the judge he had no choice but to fire his service weapon after decedent turned toward him and his fellow law enforcement officers and appeared to raise it as if to fire. It was later determined that weapon was an air rifle, and it wasn't loaded. However, members of decedent's family offered up evidence that he was wearing headphones at the time of the shooting, contrary to testimony given by deputies who insisted there was nothing that obviously indicated to them that he could not hear what they were saying when they ordered him to lay down the weapon.
Intention to appeal was first filed by prosecutors shortly after the judge's ruling last year, but it was only formally filed late last month. Prosecutors argue that stand your ground immunity can't be extended to police or other law enforcement officers who are in the midst of making an arrest. Stand your ground allows the use of fatal force to stop a threat that is reasonably deemed imminent. 
Florida's "stand your ground" law doesn't create a new type of criminal defense, but rather provides that a person is justified in using deadly force and has no duty to retreat if the person believes such force is necessary to prevent imminent threat or great bodily harm to himself or others (or to prevent the imminent commission of a forcible felony) or if it occurs in the context of a home invasion or carjacking.
The attorney general's office argued that if police want immunity for their actions on duty, they can't rely on stand your ground for it. Instead, they have to rely on sovereign immunity statutes. Here, attorneys for the deputy didn't even raise that defense, let alone prove that the circumstances met the criteria, prosecutors argued in the appeal. Further, several key facts that would be determinate of whether the shooting was justified are in dispute. They also argued the trial court judge was wrong to factor in decedent's prior mental illness problems because it wasn't something known to defendant at the time of the shooting.
Defense lawyers argue that stand your ground protection should extend to police officers because there is nothing in the statute that says it does not. If an officer is accused of a crime in Florida, he or she should be entitled to the same legal protections as the rest of us, they asserted. Judge Usan agreed with this argument.
Now, it will be up to the appellate justices with Florida's Fourth District Court of Appeal to weigh both arguments and determine whether that ruling should stand.
In the meantime, the deputy is on paid leave pending the outcome of the appeal.
Call Fort Lauderdale Criminal Defense Attorney Richard Ansara at (954) 761-4011. Serving Broward, Miami-Dade and Palm Beach counties.
Additional Resources:
State wants appeals court to overturn 'stand your ground' ruling involving Broward deputy, Jan. 26, 2017, By Rafael Olmeda, Sun-Sentinel
More Blog Entries:
Florida Leads Nation in Charging Children as Adults, Jan. 22, 2017, Broward Manslaughter Defense Attorney Blog