The evolution of technology in recent years is somewhat astonishing. The fact that we all walk around with what amounts to a personal computer and can instantly connect to anyone in almost any corner of the globe is a testament to that.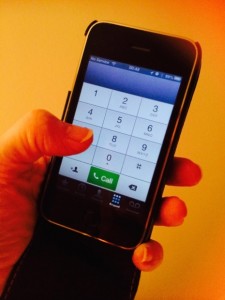 But don't think for a second that police haven't tapped into that potential as well.
Prime example: Recently the Sun-Sentinel reported on a case in which Broward County Sheriff's Office detectives were able to electronically track a stolen phone to a man and woman who were later arrested for theft.
The pair allegedly stalked the victim as he walked out of a Pompano Beach casino, followed him to a nearby store and robbed him at gun point of his winnings, his wallet, electronics, his backpack – and his iPhone – in the parking lot. In cash alone, the pair reportedly took $11,740.
Interestingly, the alleged victim reportedly asked the man to leave the phone, but this only agitated the gunman, although the alleged perpetrator did reportedly say he would toss the phone behind in a nearby yard when he left. Likely, the suspect didn't want the victim calling the police before he had a chance to get away.
But, says the victim, the suspect didn't leave the phone like he promised. In retrospect, he told the newspaper that "was a beautiful thing." The reason? They never would have found the two suspects otherwise.
Victim, using a phone from a deputy, logged into his Apple account. The tracking device on the phone led them to a drug store parking lot, nine months away. That's where deputies found the two, along with their 7-month-old daughter. The stolen phone was wedged between the center console and the driver's seat. The exact amount of cash was in the driver's back pocket. Deputies arrested the two in under an hour.
Defendants were charged with robbery with a firearm – a first-degree felony, punishable by a maximum 30 years in prison – and contributing to the delinquency of a child.
It's not going to help the male defendant's case that he was on probation following a nearly 7-year stint for prior convictions for armed robbery and carjacking. He'd been released from prison in January 2015. He was also charged with probation violation, grand theft of a firearm and possession of a weapon by a convicted felon.
In this case, the cell phone in question was tracked by its owner. However, there are numerous cases in which law enforcement are using cell phone tracking technology in ways that are being challenged in courts across the country.
One of those is unfolding in Washington, D.C. There, the ACLU, on behalf of a defendant, is challenging the use of cellphone tracking technology by police who don't have a warrant. The technology, known as "Stingray," uses technology similar to that of a cell phone tower to track a phone's location. The technology also allows police to intercept phone call data, text metadata and content. Defendant in that case is accused of robbing and sexually assaulting several women he met online over the course of two days. Police used Stingray to catch him and he was ultimately tried, convicted and sentenced to 66 years in prison. But now, the ACLU says, some of the information used to convicted him was obtained illegally through this tracking device.
In another case, police in Tacoma, Wash. are facing similar allegations for using the same Stingray device. That lawsuit was filed be four people who have not been accused of a crime, but who allege the phone data of innocent people can be captured in these operations.
Police in Delaware are also accused of illegally using this same cell tower-mounted device.
Our criminal defense lawyers will be paying close attention to these challenges, which could have a significant effect on the types of tactics law enforcement officers are legally allowed to use in their investigations.
Call Fort Lauderdale Criminal Defense Attorney Richard Ansara at (954) 761-4011. Serving Broward, Miami-Dade and Palm Beach counties.
Additional Resources:
iPhone's location gives up bandits after poker player trailed and robbed, deputies say, Feb. 23, 2016, By Linda Trischitta, Sun-Sentinel
More Blog Entries:
Shoplifting in South Florida Can End in Felony Charge, Feb. 23, 2016, Fort Lauderdale Criminal Defense Lawyer Blog